Dream Come True
December 3, 2011
Chapter 1 Just a Dream…Right?
I wake up, drenched in sweat. My hair is sticking to the back of my neck. Ugh, stupid nightmare, I think to myself. I pry the stick sheets away from my body; it was just a dream, just a dream… that's when I see the singes, those little black charred pieces of my blankets propelled me back into my dream. Almost like Alice down the rabbit home…but worse. Here there are no crazy rabbits, mad hatters and tea parties. Here, there is just evil, a world that needs saving, and pressure. And all of it's on me.
I sprint into my bathroom and throw water on my face. So cliché I think, teenage girl wakes up from nightmare, then splashes water on her face to calm down. Oh well, there's not much else I can do. I stare at my reflection in the mirror. I look just like I always do, large greenish-blue eyes, pale skin, and wavy honey blonde hair. Maybe nothing happen…Of course nothing happened! I remind myself, it was just a dream! Dreams don't suddenly just become reality!
Beep! Beep! Beep! My alarm screams over and over. My phone reminding me of my precious time slipping away. I quickly drag my brush through my tangled mess of hair, and scrub my teeth. As I race out the front door, all traces of my dream fade to the back of my mind.
"Hey!!!!!" I smile to myself as I hear my best friend's loud greeting. "Hola, Zel" I reply as I scoot my way into our seat. "Ugh this bus is so old and smelly!" my seat partner complains. "You've said that every day for the past 8 years darling," I remind her, a knowing smile shows in my voice. "Anyways….I had this really crazy dream last night." I tell my friend aka my "therapist" "I was in this sort of other world…yet it was ours, and it was doomed or something and I was supposed to say it. I had super powers or something, and I gave some to each of my friends. I gave you lightning; Crash thunder, Blade earth, Arya air, Flora flowers, Hunter, hunting, Cole fire, and me water. But I also had all the other powers too. A few other things happened that I don't remember…but the really weird thing was that when I woke up, my sheets were wet and singed.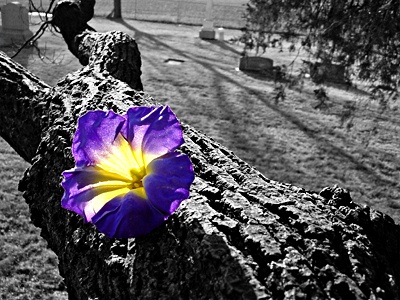 © Greg K., New Lenox, IL