A Journey to Remember
December 8, 2011
There is a place that people go, where magical things take place. The life once lived is diminished from the mind, and all that matters is the happiness inside you. To live there is a blessing, and to get there is a travel. This place is very far from the real world, but it has to be in order for it to be so peaceful. It's a journey but once you get there you will never want to leave. Problems are resolved and there is no such thing as a stressful day because every day is amazing.
My name is Leo, and I'm going to take you on this journey with me. I have to travel for days, so be prepared. This place is open to anyone, but not many people make it there. In order to begin this journey first I have to be prepared for the worse. I've packed food, clothing, and essentials for the weather. This is all inside a backpack I must carry with me at all times.
Before we take this journey let me explain this place furthermore. Now close your eyes and imagine. Imagine life with no stress, people with one side, and everyone living life with a positive attitude. There is no drama, no hardships, no stumbles, and no problems; imagine living in the perfect place. No work needs to be done; no school needs to be attended. Here, you're beyond that and you're ready to enjoy your life.
Everyone has a home, no one is in poverty. Everything you want will be in your hands as soon as it comes to mind. You can wish for an amusement park and as soon as you walk out your home it's in front of you. Your dream car is sitting in your driveway, in every color that you want it to be in. Your closet is full of all the clothing and accessories you've ever wanted. Money means nothing. There are no bills and payments. Everyone has what they want and no one is competing with anyone to get more. Everyone is genuinely happy.
Sounds amazing, doesn't it?
Now here is what lies ahead of us:
First, and foremost we must first travel to the deserts of Saudi Arabia. Within Saudi Arabia there is a tunnel that will lead us to this magical place. However, in order to do so we must travel by camel. We won't have time to stop anywhere so make sure you bring lots of food and water with you. The camels know where to go and will be waiting for us when we arrive.
Secondly, we must tell no one of our whereabouts. If the magical land gets overpopulated the ruler will have to be selective of who is allowed to enter. Mention to your family that you will be gone for a few days, but be as little detailed as possible as to where and when you will arrive, and how long you will be gone for. The time is different there. One night on Earth is 100 nights there, so it will be too complicated to explain how long you will be there.
Thirdly, when we return from our adventure tell no one what you have witnessed. No one is to know where you went, and you should bring nothing back with you. This is a very important rule because it is commonly broken. If it is broken, you are to never enter the land again.
Let us begin and record our whereabouts as the trip prevails.
Day 1: On the first day we have left our home town to begin this journey. The sun is shining, and the airport is busy. We board our plane and take our seats. Everyone on the plane is getting comfortable for the fourteen our flight that lies ahead of us. The flight attendant waits on us to make sure we are situated. I am nervous for what will come about from this trip. My parents know I am going overseas, but they have no idea that I am about to head to a magical land, and they will never find out. I close my eyes and take a deep breath as the flight takes off.
Day 2: I have awakened from my sleep to find we have landed in Saudi Arabia. The flight was a very smooth ride considering I slept the whole way. I depart the plane and take a taxi to the nearest desert. The taxi driver dropped me off where the road ended, and I had to walk by foot the rest of the way. I searched for camels until I came across two camels standing by a well. My travel guide and I sit on the camels as they guide us to the magical land. It seemed like days, but it had only been twelve hours. The sun was beaming, the sweat dripped down my face and I my breaths were shortening. I began to doze off. My travel guide acted perfectly fine, he was prepared for this, and I was not.
Day 3: I have reached the magical land. It was everything I expected it to be and so much more. There are buckets and buckets of water that I have nearly drowned myself in. I feel so refreshed. The men at the gate guide us to where we will be staying. We reach the nicest loft I have ever seen. There is enough food to feed a nation, twice. I have never felt so grateful to have AC, than I am at this moment. My travel guide and I decide to hit the hay to be refreshed for the upcoming days.
Day 4: It is a brand new day, and I want to go shopping. I planned in my head that I was going to go shopping today, and somehow the moment I stepped foot out of my door there was a shopping mall. I have never seen so many clothes. Automatically, I reach for my purse to grab some money. Someone came from behind me and said this is the land of free, and no money is needed. I've concluded that I am in heaven. I come home from the mall to find buffets and buffets of all my favorite foods. I eat as if I will never eat again, and then someone tells me as long as I'm in this land of magic this food will always be here. I question why anyone would ever want to be anywhere else but here?
Day 5: I decide to go to an amusement park. Sure enough, the moment I open my front door I see the biggest amusement park I have ever seen in my life. I rode those roller coasters all day, and enjoyed the best meal ever that night. I feel blessed to be able to take part in this experience. No worries, no troubles, and no drama, what more could I ask for?
Day 6: I am getting a bit homesick. I decide to just sit around the loft today. I flip through the channels on the TV and they are endless, of course. I look into the fridge and anything that comes to mind is there. Somehow, I am still not satisfied. My guide asks me if I want to go swimming with her, but it is just no in me. I am no longer enthusiastic, and I have come to the conclusion that I want to go home.
Day 7: I have told my travel guide that I want to go home. I packed all my belongings took some food for my travels and sat on the camel. The camel took me back to the main road where I got a taxi and headed to the airport. I took the next flight out, and was on my way back to my town. On the plane I dwelled on why I was so unhappy. I came to the realization that I would have enjoyed all of the things that were in that magical land if my family and friends were there, and then it hit me.
Day 8: I am home now, and I am so glad to be. I haven't told anyone where I've gone and left all the material things in the magical land. I've concluded that it is not the materialistic things that make life worthwhile; it is the people you spend it with. Therefore, I will never complain about all the drama, worries, and troubles in my life, because the reason all of that is there are because there are things that I care enough about in this world to be concerned about. I'd take those people before anything any day.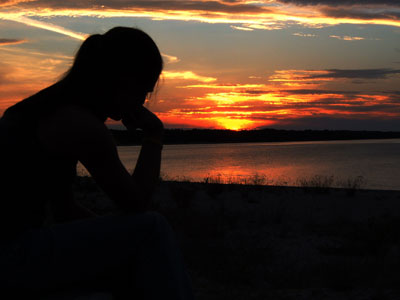 © Hilary L., Rogers City, MI