Silence of the Night
October 4, 2011
She watched the men in silence, hidden by the shadows of the moonless night. The scent of salt water and fish wafted around her. Peering through the scope of an m16 assault rifle, she calculated her targets movement. With a silencer fitted on her weapon, no one would hear her questionable act just as no one would be left as a witness.
The men busily loaded a small motor powered boat with two hundred million dollars worth of cocaine. None were aware of their impending death.

Finger resting gently on the trigger, she basked in her control over their fate. Whether they lived or died was not the question, whether their death was quick, or whether they suffered was her true control.
Once she got her order, she must obey, so she long abandoned the emotions that kept most people from committing this despicable act. Remorse for the fallen, guilt by her actions, disappointment in how far she sunk, fear of justice finding its way to her doorsteps. Nothing held her back from completing her assignment, the seconds she lingered, had no meaning other than to fully enjoy her moment of power.
As the men began loading the last crate she decided it was time and she quickly let off four rounds all with a sound as silent as the flutter of a butterflies wings and all hitting their mark with perfect accuracy. Waiting a few moments she made sure there were no cries of alarm, no others coming to the scene. Listened to the still air.
Once she was sure things were clear, she stood slinging the heavy weapon over her shoulder. She turned around expecting to go and report her success only to find the barrel of a semi-automatic pistol pressed firmly against her temple.
Without a moment to think, without seeing the owner of the weapon that so ironically subdued her, her time was abruptly ended, darkness enveloped her. The faces of all her victims over the years surrounded her, all the emotion she thought lost, flooded back and she died with a tear streaked face.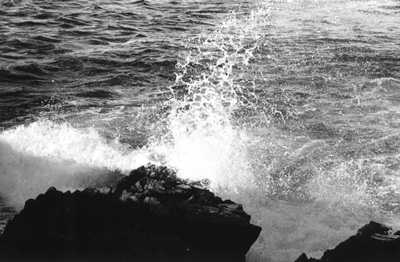 © Shira B., Marblehead, MA