Blind
September 27, 2011
I walked casually across the hallway. My bare feet gently brushed across one of the plethora of plush carpets in my manor. I extended my arms until my fingers dragged stutteringly along the brickwork as I proceeded. I felt a small gust of cold air along my spine.

"So it begins," I announce calmly, abruptly crouching down. I hear the screeching ring of cold iron leaving its sheath, it echoes through the hall. I shift my body, flicking my wrists. The trigger activates sending my hidden kunai flinging outwards. I catch each with ease as I leap forward rolling along my back. A blade rang out dully; it must have hit the floor. I stand in a single twisting, flowing motion; spinning and crossing my hands to form an x. Just as my blades cross I feel a strike against my guard, steel against steel. I strain against the attack; an inverse current sweeps across my leg; a footstep sounds. As soon as the pressure leaves my weapons I leap into the air. I spin my arms simultaneously; my weapons pass with ease through thin wood. As I fall another current flows past my chest. My feet land first followed by my hands as I lean backwards nearly avoiding the slash. I slowly licked off a trickle of blood from my nose while stomping my feet on two sources of warmth.

"What have you done," a voice yelled in dismay.

"Merely leveled the playing field," I remarked smugly.

"Wha-"

I thrust once, silently, expertly. The move was so quick he had never known it was coming. I felt the warmth of his blood flow down my hands as I twisted my blade in his heart, sealing his death.

"Never send a man of light to kill a blind man," I muttered in annoyance as I wiped blood off my face.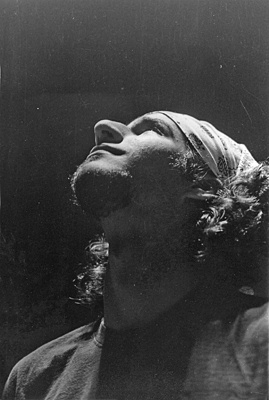 © Luke Z., Westport, MA