Ghost Wish Part of chapter 8
August 16, 2011
Was I dead? I would tell you if I knew. Was I alive? Maybe no, maybe yes, I wish the answer would come to me. I couldn't feel pain or anything for that matter. I couldn't hear anything. I was lost. I kept thinking forcing myself to believe that I was alive. But the more I thought, the more I looked at the problem, I was dead. Was I? Maybe I was, maybe I wasn't. But all I know is I'll find out the hard way, the sad way, I figure it out when I'm looking down on my friends in heaven.
I think I might have heard voices. That might be a sign that I'm alive. Or maybe I'm passed out on the heaven floor, the voices of watching angels. Why I'm I trying to figure it out. Raise my spirits or bring them down. Why am I? I can't figure it out! If I can't. Why do I try?
I think I felt a sharp stab of pain. Is that good? Does it mean I'm alive? What does it mean when the pain grows and grows? Is it a good sign? Bad? Should I ask myself these questions? Should I try to figure out if I'm alive? I'm alive? Should I?
Maybe I am alive? "SPIKE!!!" Could I be alive? "Spike!" Or is this finally my time to leave?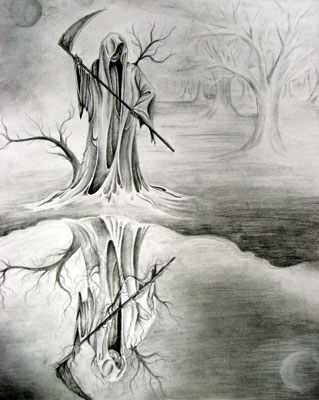 © Lacey T., Wasilla, AK