The Adventures of Scarlet Red
July 14, 2011
It was 12:00 A.M. on a clear night in Portland, Oregon. Scarlet and Max were running from the cops, but the cops were gaining ground on them. It was a tip they'd received, from a man named Snakeskin, that had given the cops their lucky break in locating the whereabouts of Scarlet and Max.

Scarlet Red is a tall woman with lovely red hair that falls to her hips, and beautiful green eyes. She keeps her finger nails painted red, and always dresses flashy with shiny earrings, and the latest clothing fashions. She likes to be noticed. She's a thief that enjoys a good challenge; just for the thrill of it.

Max, Scarlet's brother, has light brown hair - cut short above his ears, and his eyes are a deep blue color. The women find him irresistibly handsome, but unlike Scarlet, Max likes to dress casual so he can blend in. Max and Scarlet consider themselves the perfect team, and do all their thieving missions together.

Scarlet was leading the way through the city streets with Max running close behind. Scarlet yelled back to him, "the cops are right behind us Max, we have to hurry!"

"I know Scarlet, I'm running as fast as I can." Just as Max had finished saying this, he heard a gun shot, and a scream. Scarlet had gone around a corner, and was shot by someone that had been perched on the roof of a building. When Max rounded the corner he found Scarlet hiding in a dark door way, with her hands wrapped around her leg.

Scarlet told Max she'd been shot. Lucky for her, the shooter couldn't get a clear shot, and had only given her a flesh wound on the calf of her leg.

Max took his over shirt off and tied it around Scarlet's leg to stop the bleeding. There were no more shots fired, but Max and Scarlet decided they should wait until morning before moving on. They took turns standing guard, while the other got a couple hours of sleep.

When morning dawned, Max took a peak out around the building. It appeared that the shooter and the cops had gone; sometime during the wee hours of the morning. "How's your leg feeling this morning?" Max asked Scarlet. "Do you think you'll be able to run on it?"

"Of course I can," Scarlet replied, "I refuse to be weak like our sisters." Aside from having her brother Max, Scarlet had two sisters that had also lived an exciting life of crime, but had given it up to live boring - normal lives. To Scarlet this showed weakness, and she wanted nothing to do with them.


Scarlet and Max decided to resume their course, and head to the science laboratory they'd been heading to the night before. Scarlet had read about a scientist that had designed an orb that looked and acted just like the sun. The orb gave off heat, and floated in mid air. Scarlet wanted to steal the orb just to see if she and Max could really get away with it. In other words, just for the fun of it.

They'd come prepared to pull the job off. It was now Sunday morning around 10:00 O'clock. The laboratory would be closed today, but Scarlet and Max had brought sleep-dart guns, just in case. Scarlet had also done her research on the type of security system the science lab used. As she handed one of the dart guns to Max, she told him of the floor alarms in the building and how to avoid setting them off.

Once inside, Scarlet and Max split up in search of the room with the floating orb. They'd been in the building for a while when Max suddenly seen someone out of the corner of his eye. He turned quick, and shot the sleep dart, realizing too late, it was Scarlet.

"Ouch!" she said, as she felt the pain of the needle pierce her skin. When she fell, she landed right on the floor alarm she was trying to step over.

"Oops," said Max. He tried to drag her somewhere they could hide, but it was too late. The cops had gotten there in a matter of minutes, and the next thing he knew, he and Scarlet were being hand cuffed and loaded into a police transport truck.

The cops were taking them to a special holding cell; that no ones able to escape from. They'd been after these two for a long time, and they weren't taking any chances on them getting away.

When Scarlet woke up she looked at Max and said, "you moron!, don't you know your own sister?" "Why did you shoot me?"

Max replied, "don't you know, not to sneak up on me?"

"Now's hardly the time to argue," said Scarlet, "we need to get out of here." They'd been locked up in the cell, but luckily the cops were waiting for her to regain consciousness before having them change into the counties orange jump suits - standard clothing supplied to all prisoners. Scarlet reached into her shirt pocket and grabbed a pen, which was actually a torch. She torched the lock off their cell, and then did the same for all the other prisoners as they ran down the hall, in order to create a diversion.

When they got outside she told Max, "we need to find a costume shop." Scarlet had received an invitation to a ball, and she planned on having Max go with her, posing as her date. They found a store and stole a nice black tux for Max, and a gorgeous red evening gown for Scarlet. When they arrived at the ball there was a trap waiting for them. It wasn't the cops though, it was Snakeskin.

Snakeskin was a man Scarlet had double crossed years ago, when they worked a job together in Taiwan. They had heisted a diamond worth thirty million dollars from a jewelry show, and then Scarlet disappeared with it. Snakeskin found where she'd been staying and sent Scarlet the invitation to the ball. He'd also tipped the cops off, the night before, telling them where she could be found. He knew even if they caught her she'd escape, but this way the police would think he was a good guy.

Scarlet and Max were net gunned at the entrance to the ball, and thrown in the back of a van. They were driven to an abandoned warehouse along the Columbia River. Snakeskin tied Scarlet and Max to a couple of chairs. "The only way you'll leave here alive," said Snakeskin, "is if you tell me where to find the diamond."

Scarlet said, "that's the last thing I'm going to do; what I will do is this," she through a kick and hit Snakeskin in the face. Snakeskin had only tied their hands and waist to the chairs - big mistake on his part! The kick knocked him out cold.

Scarlet had a razor blade hidden in the heel of her shoe. She brought her foot up to Max's hands, which were tied behind his back, and verbally guided him as he retrieved the blade. He then used the blade to free himself, and Scarlet. They tied Snakeskin up, and headed for the border.

In an effort to avoid more trouble with the Oregon police force, and Snakeskin, they planned on heading for Washington. To get there they needed cross over the Portland-Vancouver Interstate Bridge. They made there way to I-5 and hitched a ride with a semi driver. They did it. They were across the border. Home free at last, and away from danger. At least for now!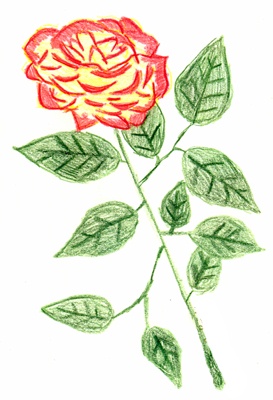 © Kelly A., Niscayuna, NY