marble maddness
May 26, 2011
God I want to get out of here! Jacob thought to himself as his friend Gavin, little sister Courtney, and him walked around the mall. Every toy store they passed Courtney whined and yelled until they let her go inside. Jacob and Gavin had taken her to six different toy stores and lucky number seven was coming up: Toys R Us. By this time everyone but Courtney was as tired as a 400lbs man running up twenty flights of stairs with no break.
"Courtney! Find a toy so we can go already, we're tired!" Jacob told her. He felt somewhat bad; he had a little attitude in his voice when he said it. Courtney looked up at him with her big blue eyes. Her eyes were as big as the jumbo marbles that had been on display when they first walked in the store. "She's only three years old man, she doesn't know any better," Gavin explained. "I know you are right," said Jacob, "Come on Courtney let's get you a toy." He said it as sweet as a chocolate cake with chocolate icing, he felt guilty.
Jacob and Gavin followed Courtney all around the store to see if she would stick to a toy she wanted. Courtney went back and forth between all types of toys. She grabbed a Barbie, then Matchbox cars, bouncy balls, stuffed animals, and pretend swords. It was hard to keep up with everything she was grabbing. Gavin, on the other hand, being the immature teen he is, unlike Jacob, found it quite easy to find toys he liked. He went to the front of the store where the marbles were on display and grabbed two normal sized ones. He rolled them around in his hand and tried juggling them as Jacob and him continued to try and find Courtney a toy so they could leave.
"Gavin! Quit acting like you're the same age as Courtney!" Jacob told him. "I'm not acting like I'm three! I'm just trying to entertain myself; this is boring," Gavin replied. "If you're going to play with those at least be careful."
Courtney ran up to Jacob after finding a doll she found and wanted. Jacob grabbed it and turned around toward Gavin to tell him to follow. He didn't want Gavin getting lost in the mall; Jacob was ready to go. Right when he turned around he found Gavin juggling the marbles recklessly again. Before he had enough time to yell at him to stop, Jacob cocked his head backwards to sneeze and at the exact same time one of Gavin's marbles flew out of his hand straight towards Jacob.
After being stuck at a hospital for three and half hours of Courtney and Jacob complaining; the doctors finally removed the marble from Jacobs nose cavity. "Thank god that only took long enough," Gavin said. "Dude shut up you threw the marble in my nose, why did you have to play with those stupid marbles in the first place!"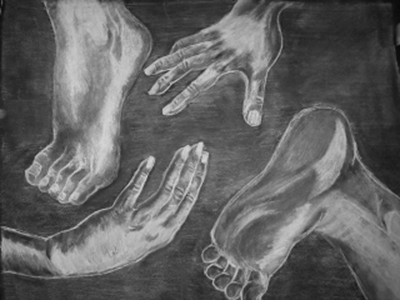 © Rachel U., Danbury, CT