Megs Birthday
May 18, 2011
On the night of Meg's birthday, it all went wrong. She first noticed that something was up about two weeks ago, when he brother John left for the supermarket, and didn't come back until late that night. He was looking very pale, and unhealthy. Meg had questioned him as to where he had been, but his only response was slamming his bedroom door in her face. Meg then went into her parent's room, where her mom was packing up her suitcase for her trip to Colorado. Meg whined, "Oh mom, why do you have to go?" Her mother replied, "You know. My job is very demanding. But I'll be back before you know it. Don't worry!" Meg then told her mother about John, and how he looked terrible. Meg's mother told her she would talk to him in a bit. Meg gave her a hug, and told her she would see her in two weeks. "When I get back, we will have a grand party for your birthday. I can't believe my little girl is turning 14!" her mother said. Meg left the room feeling a little better. She decided to go apologize to John for what she had said. Even though she knew she didn't do anything wrong, she decided to try to make amends anyway. The door was ajar, so she decided to go in without knocking. "John…" She began, "I'm sor-" She stopped mid sentence. Her eyes searched the room. John was nowhere to be found.

The next day, John was eating breakfast at the table when Meg woke up. When she saw him, she choked on her mouth guard. "Where were you last night?" she asked, after the coughing subsided. He only grunted, picked up his bag, and sprinted out the door. Meg was astounded by his behavior! She saw the note her mom had left. It read,
Dear Meg and John,
I left for the airport, and your breakfast is on the counter. If you need anything at all this week, don't
Hesitate to call the neighbors. I will call you when I arrive.
Love,
Mom
Meg ate the dry cereal and drank the juice, then hurried to the bus stop. The next week went by in a blur of school, homework, friends, and sleep. John continued to ignore Meg, and leave in the night and mornings without warning. Meg also noticed that he wasn't actually eating anything at meals, just pretending to. By the end of the week, Meg was worried. She decided to give him another couple of days, and then call her mother. Meg had a big project due in science this week, so she planned to go to the library after school every day. By the middle of the week, John seemed to be doing better. He began to look more like an 18 year old, and his color was changing. Meg was so engrossed in her project, that it took her to the Friday before her birthday to notice that it was changing for the worse, into a pale grayish-white hue. Meg decided to talk to her neighbors that night.

After school, she walked over to the neighbor's house, and knocked on the door. Dr. Stan and Mrs. Stan opened the door and said, "Fancy seeing you here! What's up?" Meg told them about John, and asked them for advice. Dr. Stan said, "Well you have got quite a pickle here. I would wait until your mother comes back tomorrow. Thanks for stopping by!" Meg left with a feeling of abandonment. She went upstairs, lay on her bed, and eventually fell into a deep sleep.

The next series of events were later told to the FBI by Dr. and Mrs. Stan.


Meg got up the next morning, and remembered that it was her birthday, and her mother was coming home! She was very happy, and exited about the day. She was about to leave her room, when she noticed a note hanging on her door. It said:





Meg,


Come to the abandoned parking lot of the old mall at 11:00 pm today.


Come alone. We need to talk.




John
Meg thought that this was strange, and she was a little scared when he had said "Come alone". When the time came for her to leave, she called Dr. Stan and told her she was going out. He said ok, and hung up. But he called her back right after she had hung up, because he wanted to tell her that she shouldn't go. The line was dead.

Mr. Stan left the house at 11:30, and went to the parking lot. He searched the whole thing, but there was nobody to be found. Then he heard the strangest noise, a combination of soft footsteps and heavy breathing. He began to smell a mixture of rotting meat, festering flesh, and wet dog. Stan heard a noise and spun around. He heard a whimper, and saw something on two legs run away toward the street. The smell of wet do and rotting meat went away, but a faint moaning could be heard. Mr. Stan followed the sound to the dumpster. He opened the top, and screamed a high pitch scream. Meg was lying at the bottom of the dumpster. Blood was everywhere. The only thing Mr. Stan could do was call 911.
When the ambulance came, he was put in a straight jacket. Meg's wounds were too severe. Most of her body parts were torn off or missing. Meg could not be saved. She died in the operating room, at age 16. It was the day of her birthday.
Meg's brother was found in the bottom of a river about two months later, with a knife in his back. The weird thing was, he was still alive. He tried to kill the rescuers, but one man hit him from behind. He was no more. The FBI later did an autopsy, and found no problems with John. The world does still not understand what happened to the boy. The kid's mother went into a comma when she heard about them. She died a year later, at age 46.
This is the end of the tale of Meg's birthday.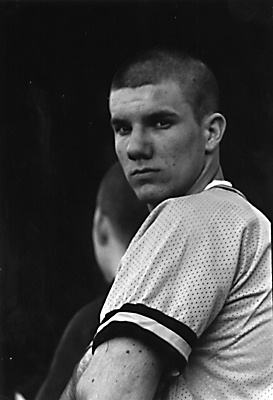 © Chris C., Milford, CT