Requirements for Life
MAG
"Request denied due to unqualified applicants," read the e-mail, the e-mail whose arrival we had been anticipating for months. My arm went around my wife's waist, not a word from my lips, nor from hers. A practiced ritual. It was the third time we had been denied. It seemed a perfect method: only parents who are completely capable of raising intelligent, moral children should be allowed to procreate, thus restricting the number of births and promoting the welfare of all children. Thrice denied, thrice told that our morals, or our intelligence, or our financial standing, was not good enough. And still, still - we thought differently. For this reason, my wife illegally stopped taking her birth control pills, flushing them down the toilet, and, unbeknownst to the government, we set out to become parents.

We'd both read about it before: years ago, when anyone who wanted to could have a baby out in the uncultured regions of the world, when people still thought everyone capable of parenting. How people now quaked at the thought! Billions and billions of people, and no steady decline in the population. Now, however, there are fewer and fewer people by the day.

Once in a while, a friend would be approved for parenthood and the lives of the mother and her partner would become the lives everyone dreamed of: income from the government, nurses to care for the mother's every need, and more than anything, the chance for someone to continue in the form of a future generation. Of course, some desired it less than others, perhaps never even applying, knowing that their purpose was in their work, or the person they lived with, not in childbearing. We knew we wanted a baby. And so we tried. In the dark of the night, when no one could tell the difference from our earlier inconsequential lovemaking, we tried.

My wife took ill, or so thought her friends. What could she have contracted in this world nearly free of disease? People whispered in the streets - I heard them upon occasion - that she was not physically ill but crazy, the only kind of ill we couldn't cure yet. "And living with a psychiatrist!" they'd exclaim. "You'd think he'd do something." Yes, a psychiatrist, and one whose grandfather had developed the psychiatric assessment of the parenthood eligibility application. How I had admired my grandfather: the author, researcher and doctor. How I had striven to be like him - but the test, the test - he was unknowingly the cause of all my grief, and every night, I hated him.

My wife took to reading only the old books, the books from the freedom days, as they were jokingly known, when liberty wasn't just choosing whom to live with but had to do with so-called unalienable rights of man. Thus, she knew what was coming without having gone through the mandatory classes that we require for all mothers-to-be. She knew (though I didn't) when the pain came, and that it meant even more pain for her. I fetched her a glass of water. I thought about how I hadn't become a surgeon partially because I wanted to be like my grandfather, but mostly because I was squeamish at the sight of blood. It happened during the day, so the few people who heard blamed it on her impending insanity. We listened to Beethoven's Fourth, and the blood came, and I held her hand and never closed my eyes once.

There we were, fourteen years later, waiting for them to come, knowing that we did the right thing, but wishing we'd done it better. They never suspected anything years ago, when I purchased countless foods that could be eaten by a baby, or when I bought schoolbooks for my wife to teach with (whom she was teaching I never mentioned). Nor when, perhaps, an extra voice was heard emerging from the house. We were both crazy, everyone knew. Perhaps a doctor had come at long last. I wondered where our baby, our child of fourteen years, was when my grandfather, now over a hundred, told my wife he knew about our child. And I wondered where both wife and child were when my grandfather arrived to take me away to his psychiatric ward, "treatment for hallucinations" scrawled wearily at the foot of my bed.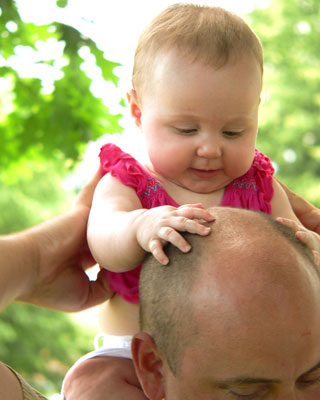 © Lukas D., Conway, AR