Past Dreams
April 25, 2011
A strange haze grew over my eyes as I sat down at the computer; I knew I was sleep deprived, but there wasn't anything I could do about that, and since I was awake from stress, I figured I'd try to relieve some of it. The black screen flickered to life at the touch of a button, and I quickly opened the tracking system I had set up to keep an eye on them. My shoulders slumped with relief when I saw that they were still in Dubai. Exhausted, I flicked the lid of the laptop closed and stumbled back into my bed.



That dream came to me again.

I stroll out into the living room, and see the horror that changed my life: My parents and my older brothers and sisters being held and gagged. I freeze in the doorway, my eyes wide.

For a moment, I am confused. What's happening? Then I realize that this is what my parents have warned me about. I had become careless and shoddy in my vigilance. I was supposed to have prevented this! I am almost surprised that it has taken this long- fours years of hiding, making and losing friends, training myself to let go.

My eyes meet my father's, and he mouths at me to leave. Save myself. But I can't; I am rooted to the spot, and it's impossible to make a stand against these intruders.

One man turns and sees me standing there. He says something in another language and the leader turns. A woman. A smile curves on her lipstick-stained mouth.

"You are finished, and so is your family," is all she says to me before motioning the thugs to shoot my loved ones. The bullets go straight into their stomachs; and I am revolted. My enemies do not even have the decency to give anyone a quick death; instead, the stomach acids will slowly seep out, causing excruciating pain, and finally death, but only after fifteen agonizing minutes.

Some of the primal animal is released from me in my fury. I shriek and launch myself at my family's murderers, scratching their faces, kicking and dodging the punches that inevitably return. I'm not wholly human, so it's easy for me to cause injuries to the soldiers, but nothing life-threatening, until exhausted and weeping, I succumb to shock and multiple tranquilizer darts shot into my thigh.

The last thing I remember is the woman, still smiling, leaning over me and whispering softly in my ear, "Yes, you are perfect for the job we have in mind for you . . ."



I awoke in a start, and fumbled in the dark until I found my lamp and switched it on.

As I recalled the tortuous hours that turned to days then to weeks and years, I felt tears rolling down my cheeks. Cruel "mentors" that taught me to kill dozens of ways; battle strategies; the endless drilling; brainwashing and beatings; the solitary confinement that finally broke me to their will. I was created for only one purpose: to destroy others' lives in the same way mine had been.

And then the last six months . . . recovering and realizing that in their pride and thorough training, I had been given the ultimate weapon: myself. Not to mention my accomplice who was currently in the other room, no doubt sound asleep. She had been as eager as myself to get out of that h*ll on earth.

Quickly, I shook off my unusually deep thoughts and returned to the mantra I had repeated to myself over the past six years, since I was eleven: Dwelling on the past won't change it.

Smiling wryly, I laid back down, shut off the light, and collapsed into a dreamless sleep.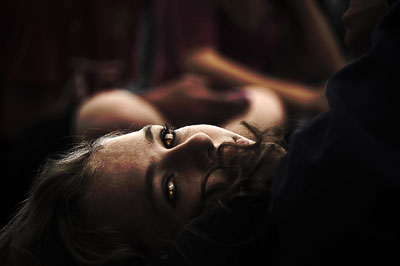 © Calvin C., Salt Lake City, UT