Bulgarian Boy Hits A Home Run
March 21, 2011
" Bulgarian boy hits a home run". This is not a typical teenage boy fantasy but here is mine. My name was Tony and I hit a home run in the fourth inning and won the game for my team the Belle Plaine Tigers baseball game. We were playing against the ugly pit of no return Jordan and their team the Hubmen.

The Tigers were losing by two runs and we had one person on second. Then Derek Dahlke went to go to bat . All he needed to do is get on base. Which wasn't going to be hard for him because Derek had a .475 batting average and he was a switch hitter. Derek missed the first two balls and then got a grounder past third. He got on first and stayed there. Also Zach made it to second before the ball got there.

After Derek it was me, Tony I wasn't the all star on the team, but I was lucky. I got struck out in the beginning of the game. So if i don't get a hit and get on base the Tigers were going to lose. My batting average was around .220 which was not bad nor good.
The pitcher on the other team was their best. He can throw baseballs and hit targets a thousand feet away. I walked to bat with a dumb look on my face. I began the stand on home plate before I was ready swing. The pitcher then gave my a look of pity. I get ready and the ump tells me to get off of the home plate. Then the Hubman pitcher throws the ball it past me at around ninty miles per hour. All I did is move my bat in front of my face for protection. Then I hit my bat on the bottom of my feet and acted like it was nothing. Then I want to bat again and some girl in the stands says, "you can do it Tony".

I go to bat again with a half of a smile on my face. I got a singe of relief after two balls were called. Then I tried to huge the ump but he pushed me away. After that there another perfect throw and I swing, misses the ball, and almost falls over on home plate. Now I was mad I had no smile on his face, it was game time.

The pitcher was ready and once again throw the ball perfectly at me. I swing and I hit it so hard that the bat fell out of my hand. The ball flies past thread. It lands between left field and foul territory. The left fielder missed it, Derick, and Zach made it home. I was still running past second base. The left fielder gets the ball and throws it home, but he missed home and the ball rolled into Hubmans bench. I run as fast as I can and I tripped over third. Then I gimped home. I tried to slide in to home, but fell head first into home plate. Before the Hubmen get the ball out of there bench because they were helping each other open their baseball bags.
Everyone was screaming at me and tried to pick me up, but then once again drop me The Tigers won by one.The scour was fifteen to twelve and I was the game wining run. I was then given the game ball and crowned MVP of the game because of my double and three errors That was my fantasy of Bulgarian boy hits a home run and I hope you liked it.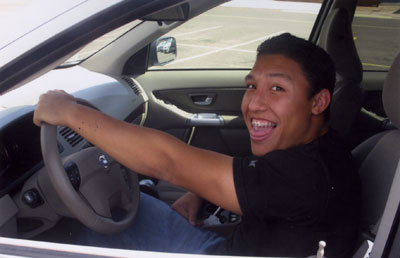 © John H., Phoenix, AZ