lucy and the shelter
March 8, 2011
I am Lucy. This is the story of my life. I live in a hole in a wall. This is my story. Chapter 1: lucy I am Lucy. This is the story of my life.
I live in a hole in a wall. This is my story.

One day when I was laying down with my friend coda we could hear our owner talking. Then at that we came out to say hi. Then I saw something red fly around my neck and I line that was connected to it. I looked over to coda and the same thing happen to him. Then we were put in a pen. I was so stressed. Then I felt some pain in my leg and then the world went black. I latter found out they thought I was to stressed and had tranquilized me. I had waked up in a cage in a car. When the door opened there was a guy I had never met. Then with the light I saw I was not alone coda was in a cage by me. Then something was pulled over my face. I started to move and then I was falling. I landed on my side sharp pain ran through my side and leg. Then I heard a yelp and a familiar sent hit my nose. Coda was beside me. He bit down on the thing on my eyes and it came off. I saw he was trying to protect me. I tried to get up. No it hurts too bad I thought. That is when coda suddenly fell. The people picked him up and carried him in to the building. They approached me. I was hurting to bad to fight. I just let them carry me in. when I got in there I saw a medal table. They set me on it and held my head down. Then all of the sudden they let up. Then I saw why. There was a little girl running at me. The people where yelling they're heads off yet the girl aproched. I love girls. And when she was in reach I gave her a kiss. After that I don't even remember the docter. Kelli (the girl) was loving on me till I was well and then I went home with her coda came to and we lived happily ever after.


The end.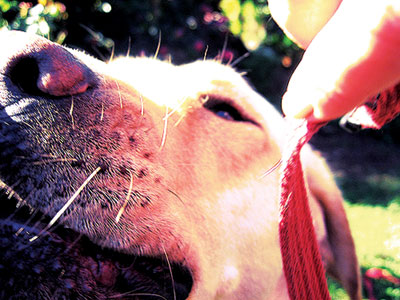 © Kate M., Brisbane, Australia