"X" Marks The Spot
January 10, 2011
The cold dry hands that gripped me firmly--snatched me from my small room, across the ship, to the lowest part--the dungeon. They threw me into a cell, while smirking:

"Navigator? What kind of a navigator are you?! We'll never find the gold while you're here."

I flinched at the sound of their boots on the polished wooden floor as they left. I carefully examined my surroundings, and saw a porthole. I rushed to it, feeling the cold, rusty bars that kept me from escaping. I started to pace in the confined space that I had, thinking to myself. I was puzzled at how my calculations were wrong--they never were. I sat down and got out my compass and the map I stole. The gold had to be here. I knew it was. And I needed it; way too bad. I mean that island had to be just a few amount of kilometers away.

My deep thought process was interrupted by the sound of the dungeon's main door open and the captain of the ship, and the prison guards entered. They opened my cell, and the captain stormed in, pushing me against the back wall with his muscular arms.

"I want to know why, John. Why did you bring us to this place when there's no possibility of any gold here; the place is overpopulated. Those idiots would've found it already," he said in a stern voice.

He was barely an inch away from my face. I felt nauseous from the stench of rum reeking from his mouth. I started to shiver in fear, as my heart beat faster; I was utterly speechless. He told the prison guards to ready the plank; they needed it.

"You can't get away while I'm in charge, Johnny," he smirked as he left the dungeon.

I got out my tools again, and predicted we would be in proximity of that island in less than 3 hours. I got butterflies, since now I could find the gold, and prove all my shipmates wrong. I mean, I was a pirate, for heaven's sake! This was what I lived for--the thrill of it all! I waited for what seemed a decade, and saw a slim piece of land just over the horizon. I was ecstatic. I could not bring my eyes off of that fact that there might be gold there, more than likely, and soon forgot about everything. I soon found myself blindfolded and brutally carried out of my cell.

The captain called out sarcastically,"Hey, I think I see that island--the one with the gold!" And then he pushed me off the plank, slowly and slowly to the edge. Then, I remember falling what seemed almost a kilometer and having a surge of warm water hit my face, as the blindfold came off. I wasn't far away from the land, I thought as I spat out the salty water in my mouth. The ship--it was almost out my sight. I smiled.

I swam towards shore and soon started to limp through the wet, muddy sand that clinged to my feet. I collapsed, and got up quickly, knowing the sun wouldn't be up for much longer. I followed the directions on the treasure map, and found the spot where I had to dig. I dug with my bare hands; it was only a few feet. I hit something solid--something wooden. I hauled the chest that laid in the ground out, and there I saw a million gold coins staring back at me. I was right after all.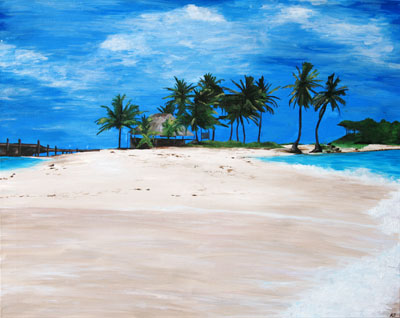 © Karen S., Norwalk, CT