Kiss the Rain: Chapter 1, Part 3
September 4, 2010
The disembodied voices of my thoughts were gone instantly, blown away in the wind. My eyes popped open to see Cameron, our slightly eccentric neighbor, standing over me awkwardly. A peculiar expression slowly melted over his features, like he finally understood something he'd been contemplating. He nodded to himself.

Cameron Vassar, 18, worked at the local skating rink. He wore baggy shorts and weird t-shirts with sayings on them like "Reunite Pangea" and "South Korea's got Seoul." He tended to talk about the most random things imaginable, and in this case, to appear at the most random times and do so.

I gaped at him. "What does it look like I'm doing, Cameron?" I had no patience at the moment. Frankly, he was absolutely the last person I wanted to see. He stared at me, confused by my tone. I tried again.

"I was taking a walk," I said brusquely. "And I sat down …" my voice trailed off. And then, I heard these people talking to me. Oh yeah, I hear voices all the time. As if I would tell him that. As if I would tell anyone that.

"Oh," he said, shrugging. "So do you know how to get back?"

"Yes, of course." I rolled my eyes. "But why would I go back?" My tolerance was slipping.

"I mean, some people like to walk around just for fun and I mean it's not that uncommon so I just thought you maybe wandered here and got lost and needed help." He glanced at me cautiously, apparently afraid to make eye contact. I stared back.

"Okay," he said, tripping over a log as he moved away. "Never mind, Raine. Sorry to bother you." I felt a tinge of regret as I watched him depart. I need to work on that whole 'being nice' thing.

A few hours later, I was back home, and my mother decided to volunteer me for transporting heavy furniture- from Cameron's house. I looked at her with disbelieving eyes.

"He only lives twenty yards away, Ray. Come on, it's not a big deal."

"There's a hill."

"I know there's a hill. That's why you're going to get Cameron to help you. He said he's more than willing."

"What about Jake?" I ask, trying everything.

"No." I knew that voice. She was done talking about it. I head out of the front door and towards Cameron's house. I've never gone to him, so this is a little weird. Whatever, it's Cameron. I don't think you can get any weirder.

A woman I recognized appeared in the doorway. "Hi, Raine. I'll go get Cam," she said, smiling. I turned my back on the door, staring at the hill. Oh god, this is going to be fun.

"Hey," I heard Cameron say behind me.

I pivoted. "Hey-"

"Look, don't say anything. I don't want to help you as much as you don't want to help me. Let's just get this over with so I can go back to watching reruns of Saturday Night Live and eating popcorn."

Oops. Not Cameron.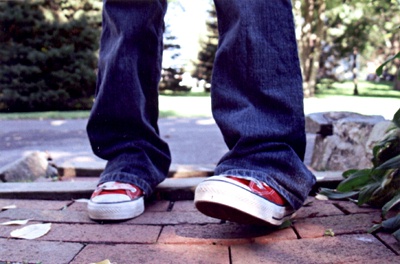 © Sara M., Milford, CT