Run-away
June 29, 2010
Running.
That's how it started.
Running far away from where i came from.
That's how it should end.
I ran furiosly, dodging shrubs, branches, boulders: anything that could actually lead to stopping me.

"what exactly are you running from?" the voice inside my head breeched. i wish i could reply, but i knew there wasn't time for that. I had running to do. Continuing through the leaves and branches and up the steep grassy hill, I finally reached the top. Looking back behind me, I could see a plump, greasy old woman pushing bushes and branches, and i was completely horrified. she was after me after all. I looked ahead and saw our local shopping center, and the bright neon lights that said Walmart, and i imediatly hustled inside. Swerving through isle after isle, i felt positivly sure that the lady wasn't following me, until i heard toys being pushed and merchandise being heaved to the other side of the wall. I ran for the nearest exit: a door leading to an ally way, and as i ran out, a skinny hand caught my arm.
"what do you think you are doing?" the fuigure said in a crackling voice. He must've been in his twenties. "let go! i have to get away! please!" i shrieked, tears in my eyes. It was over. the employee looked around, and finally whispered "that dumpster will do, just go!" and as ran amd dived into the dumpster, the horrible lady, Mrs. Hannaway, opened the door of which i came out of only a moment ago.
"Excuse me, sunny, did you see a wild brat run by. She's about yay- big and has ratty hair?" the man replied that he saw a little girl run towards the back of the store, opposite of where the dumpster sat in its reeking odor, and i realized i was safe. When she was gone, i climbed out of the dumpster and the man grabbed my arm once again and took me to his car, and started to drive south. "Thanks" i muttered under the rage of the sputtering engine. "Don't mention it. I would of been running away from that lady, too. She freaks me out."he replied, shaking his head. "i have to deal with her back at the foster home. I would be out in Nebraska with the most evil couple right now if you didn't help me right there. By the way, im Sarah." I told him, my voice kind of shaking. "I'm Spencer, and I guess I'm gonna be taking care of you until you find a real home." he murmered, honking at the rude driver in front of them. I sat there, listening to motors of cars spewing past us. Just for a while, i told myself, just for a while.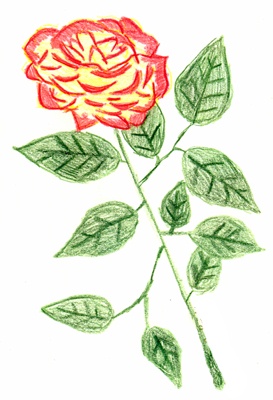 © Kelly A., Niscayuna, NY