Time Travel for You - Part Two
March 23, 2010
I proceeded forward with a heavy and torn heart. "Geniveve," I whispered in a hallow voice. She had hung herself. I could tell it was her, she had used the special knot she used to do at summer camp with me. Only she knew how to do it because it was her own. She called it "Tangled Butterflies". Geniveve! I held her dry hand in mine. I squeezed it with power, pressing out tears. I didn't bother to wipe them off. What's the use? Geniveve...
I didn't let go of her hand. I couldn't. Why would she do this! My tears sparkled as they descended to te ground. Splashing.
Then I let go, I compelled myself and I obeyed.
My eyes were warm and moist, crying again. I walked home in the pouring rain. As if I wasn't drenched enough already, in my own tears!

"Hi, sweety!" Mom greeted from the kitchen.
I ignored her and stomped to the attic. " I'm talking to you, Claire!" she started to get angry, I didn't listen. Why listen?
I climbed up the ladder to the aged storage attic. I tried not to cry but I couldn't stop! And I shouldn't have left her there! What was I thinking?
I pulled out everything from under the anicent desk. I found pictures from grandmother's childhood to summer with Geniveve...
A letter caught my hazel eyes! A letter attached to a box.
"Use it well," I sniffled, as I quoted the letter. I sighed, clearing my head. Use what well?
I slid off the lid of the box. It looked like an old telephone. Then another note attached. Oh joy, more notes.
"Dear Lucy, here is your order. I could lose my job just giving this to you. Although it hasn't been tested, so use it well. Remember to punch in year, date, and place. If not followed in order, the machine could break if tampered with! And the consquences are fatal! Enjoy. You're forever, Drew," the letter was exact. And... I can fix my mistakes!
I grabbed the telephone and sprinted to Geniveve's! I bet her mother isn't home yet anyways.
I ran so fast, I couldn't feel anymore! But I pushed myself to run! Run for Geniveve!

She was still there. I placed the telephone on the ground being cautious...
I plugged it in to the nearest source then raced back to it.
I hit on the middle button and then it happened! Spontaneously! The phone shifted upwards to have a rectangular screen below with a miniature keypad. Alittle fancy for the old days.
Year. 1990. Date. February 14th. Place. Geniveve Lorren's house. I pressed the middle button again. And my mind was flushed! It felt like I was being lifted up, floating. Then dropped, crashing to earth! I couldn't yell for help! My mouth wouldn't make noise, I was muted.

Geniveve! I saw her walking to her garage with the rope. "Geniveve!" I reached out to her and clumsily fell forward hitting her.
"Claire? When did you get here?" her eyes widened with shock.
"Gen, don't do this to yourself!" I begged, as only a friend could do. She stared at the telephone.
"What's this?" she asked, holdong it up to me.
"Long story! But don't tamper with it please! And we need to talk, Gen!" I snatched the machine from her and set it down carefully.
"Don't kill youself, Geniveve!" I continued on, muttering about our friendship.
"Kill myself?" she backed away from me. Then stood up on thr chair holding the rope.
"Please don't!" I grabbed the end of the rope and pulled. Hard.
"Stop! I'm going to fall, Claire!" she screeched, loosing balance. Gen fell off the chair when the rope went around her neck and I had pulled hard. Gen choked and moaned in agony! Trying to draw breaths!
"Help!" she swayed her arms back and forth to me struggling.
I tried to undo the accidental knot, but it was no use!
"GENIVEVE!" I screamed out to the world.
I killed Geniveve.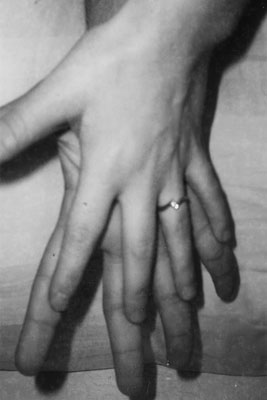 © Heather H., Phoenix, AZ