The Weaver
February 26, 2010
Arachne was a young girl who was so gifted at weaving that people came great distances to watch her work and admire her exquisite tapestries. "Athene herself must have taught you,"they said to her. For it was the goddess Athene who had taught human beings the craft of weaving. "Not even Athene is good enough to be my teacher," Arachne said scornfully. "In fact, I wish I could challenge her to a weaving contest,as "I'm sure I would win."

When Athene heard about Arachne's boasting,she disguised herself as an old woman and went to go visit her. "Your talents are great," she told Arachne, "but don't be so arrogant as to think you aer better than a goddess." Arachene ignored the warning."I am every bit of good as I say I am," she said. The goddess therw off her disguise."Have your wish,then,foolish maiden," she said. "Let the contest begin!"
The onlookers gasped. Even Arachne turend pale. But it was too late to back down. Both Arachene and Athene worked swiftly and gracefully. Breathtaking tapestries flowed from their fingers. Athene was pleased with her work but, when she saw how splendid Arachne's tapestry was she flew into a rage. She struck Archne on the forehead,saying,"you and your descendants will rember this day, for you will weave and spin for all eternity!"

Arachne begin to shrivle and shrink, until she was small as a pea. Her slim fingers became eight slendor legs, wich scurried across the floor and up the wall. Athene had turend her into a spider, and she immediately began to spin a declicate, gossamer web as spiders do.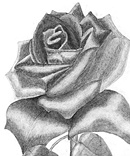 © Nghi L., Phoenix, AZ