The Tragedy
January 29, 2010
Goggles on and stepping up as the whistle was blown, I could feel the butterflies in my stomach start to pile up, I felt like I was going to explode. I had gotten ready and stretched out my arms while I was waiting for Mrs. Starter. The lady had picked up the walkie-talkie like figure and was about to announce the event. "Event two, 200 yd. Freestyle." She had sounded like this was her first Meet to announce at. "Swimmers take your mark," there was a slight pause and then a huge BEEEEEEEEEEP! I dove in so anxious but worried that I wouldn't be able to make it. As I made my way down and back two times with two flip-turns I was so tired. My arms felt like jello. The only thing that I had on my mind was finishing my race as it was my best sport. My mind was going crazy and I heard the crowd cheering "Come on Jaclyn, you can do it." I was down to my last 50 free with about 10 yards left when everything had become a blur.

I sank to the bottom of the pool. As soon as the lifeguard had spotted my disappearance she dove right in. My coach was startled as she had found me being brought up from the bottom hard tiles. Layla, the lifeguard, was pulling me up on the damp floor. My parents had jumped up observantly to my side. My Dad, who works at the Santra Hospital, did not hesitate, and drove to the hospital while my mother and I were in the Ambulance. Seven minutes went by of slow CPR procedures. The Ambulance finally arrived, with many beeping monitors that were rapidly being united with my body from head to toe. The monitors were for my pulse and heartbeat. I did not think I had a heartbeat, I thought I was dead.

My mom held my hand in the Ambulance. Interrupting the sound of the loud monitor, my Mom's phone rang. It was my father, calling and asking my Mom where we were. I had felt my body tumbling through the doors and my Dad a.k.a. Dr. Lucas, was walking right beside me the whole time. Then we got in my room,"62A," a nurse screamed out. My Dad was examining my eyes with very bright L.E.D. lights. He started rambling on about what was on with me, but my mind was going on in so many directions that I couldn't understand him.

My Dad had asked me if I was in any pain. It was hard for me to point to anything, let alone try to talk. I couldn't move my legs. I could move my arms but I did not have the energy. My Mom handed the nurse the brown clipboard, with about eighteen sheets of paper, and then it was given to my Father. I found the energy to call his name, "Dad, my l-legs are numb and m-my back is in a lot of pain." Suddenly but carefully, he and the other nurses flipped me over and looked at my back, which was bruised and very swollen.

"Dad!" I screamed out his name

"What am I hurting you at all?"My Dad asked in a hustling tone.

"YES!!!!!!!!!!EXTRME PAIN!!!!!!!!!!!!" I was panicking at this point. "Do you know what's wrong w-with my back is?"I had asked him with my mind all discombobulated.

I could sense that he was thinking of what to do with me. I knew this was worse than bad…..this was terrible!

"Get her in an O.R., STAT!!!" My dad was in circles trying to figure out what was wrong with me. I had gotten into the O.R. and my back was freezing from the numbing solution. My Dad took the scalpel 7 inches past my neck to the beginning of my waist.

I was in surgery for eight hours straight. My Dad came out and delivered good and bad news to my Mom that I was going to be okay but I would now have a frustrating life. My Dad went on about how I would be paralyzed for the rest of my life. My Mom splattered out in tears.

Later that day I woke up from the anesthesia. I could lift my head and my arms but that was it. I knew I was now paralyzed. I was diagnosed with a Herniated Bulging Disk that ruptured. The surgery was called a Bilateral Lepidemisis. I could not walk as the nerves in my legs severed to make my dream of walking impossible.

To now sum up my life I could not do anything. I now have to make the best of life. Hours went to days and days went to weeks. I was in the Hospital for 3 weeks and 6 days. I had gotten better. In no time, I was back at school in the 8th grade. I wasn't able to do sports anymore, but I made the better of my second chance in life.

Epilogue

2012 is here and I'm going for another back surgery, a L3-L5 Lumbar Fusion. I have had a hard time getting use to my new purple and silver wheelchair. I go to Physical Therapy twice a week and I am always tired after as I use all of my power I have just to move. If I could go back in time and change this tragedy, I wouldn't. I just know that this is how I needed to live my life and I am changing a little bit at a time. I will, in time be able to do more things that I have not be able to do in a while with more Physical Therapy and lots of confidence I can make a change, not for me but for my peers, my family, and for my swim team. I want to prove others wrong with the abilities of what paraplegic people are capable of accomplishing. I can do anything!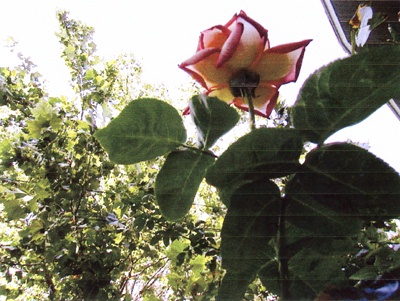 © Courtney P., Alpine, TX