A Typical Morning
November 3, 2009
It was the mid summer of 1999. They were both the bright and adventurous age of four. She had brunette hair and bright blue eyes. Her pupils were always dilated. Her mom said that it was just God's way of letting in the light of the world so her personality would reflect joy and light up other's lives. She could be the sweetest and most caring girl you've ever met, but when she was in a mood, she could also be the sassiest. She loved causing a ruckus in the previously still water with her talent of gliding on top of the clear, chlorinated pool. She had also been generously gifted with arms and legs that could charm the most judging people of all in her movement across big stages. Her smile could easily lighten a crowd's mood.
His eyes were a mysterious dark brown and his hair matched perfectly. His smile, like hers, was as bright as the moon and the stars. He on the other hand had a love for soccer. His lengthy, lean legs carried him effortlessly back and forth on the field.
With only two months between them, they had been together practically from birth. They had been inseparable since day one as were their parents. The two did everything together; played, ate, bathed, learned, explored. Each day evolved into a new adventure in their eyes; each adventure, a savored memory. The two were absentmindedly entertaining to others as well as themselves.

She was soundly sleeping. Images filled with fields of luscious green grass blowing in the gentle breeze drifted in the midst of her mind. Outside her pastel paneled window, the sun streamed down its shimmering rays and clouds hovered overhead. It was a gorgeous day for playing and running for people of all ages. As her mother called to her, she moaned and asked for a little more time.
"Lilie, it's time to go to Martha's and see Ian!" Lilie jumped straight out of bed and let her mother dress her and brush her long, glossy, light brown locks.

As they strolled out of the house, Lilie exclaimed, "Wait! I forgot my picture I drew for Ian last night." Finally, after numerous minutes of waiting, Lilie emerged from her room.

"Okay, I'm ready to go play," she said, her curls bouncing with each step she took.

"Well it took you long enough honey!" responded her mother.

They got in the car and started off towards Martha's house.

As they were pulling into the driveway, Ian came galloping out the door towards the car. Martha was not far behind trying to catch her son before he stumbled over his own two feet or bumped into the car.

Lilie leaped out and the two embraced each other, said good-bye to Lilie's mom and ran inside to start the day's adventure, while the two chuckling mothers were left outside to chat about their energetic children.

Inside, the "Inseparable Duo" headed to Ian's room to get the gear and material needed like spoons, sand pails, and their walking sticks.

As they sauntered out the door, they glanced around and decided upon which path to take. They unanimously chose the ditch in close proximity to the house that led to the mysterious jungle.
They walked for hours with the scorching heat beaming down on them. It was almost unbearable. Just as they were about to faint from the blood-boiling temperature, they found the jungle. Taking their first steps in was exhilarating, yet intimidating at the same time. Before getting in among the trees, they glided over a glistening pool of water by a rope hung by another tree on their side of the bank.

Hanging from the strong, brown branches, they could see the whole sky above them and tall, dark green, rain-dotted trees below. They swung by curling vines and dug trenches to find multiple colorful snakes lying in the cool dirt trying to hide themselves from the heat above their cold-blooded bodies.

As they were walking, a huge booming shook the leaves off of the weaker branches and made Ian's and Lilie's stomachs churn. Rapidly turning around, they discovered a huge snow leopard pounding towards them. The two took off sprinting towards the end of the forest in hopes of escaping the beast and its huge pearly white teeth.

"We have to run faster Lilie, come on!" Ian shouted behind him.

"I'm trying but my shoes are too big!" she exclaimed.

So Ian, displaying his young gentleman side, traded shoes with Lilie so they could get out as fast as possible.

Acknowledging they were far from the outlet of the forest, they searched for another alternative. To their delight, a cave stood just a few feet away from their location. The children dove behind the sinister, black, musty walls and took cover. Clinging together, they held their breath and waited for the leopard to discover their hiding place and eradicate them. To their fortunate surprise, the ferocious animal promenaded right by them without a passing glance in their direction.

The two squeezed each other tightly and tears of joy flooded down their faces. Hand-in-hand they walked out of the jungle, retraced their steps towards the house and went back inside for lunch.

"You know what, Ian?" Lilie questioned.

"What?" Ian asked, taking a monstrous bite of his turkey sandwich.

"Grown-ups don't really know what's out back. All they see is what's really there. But when we have each other and we're together, a whole new world comes to life," Lilie noted, optimistically.

Ian agreed with a smile full of mushy bread in his teeth and mayonnaise on the sides of his mouth. The two laughed the whole way through lunch.
After the meal, the two rambunctious kids would have a whole new adventure ahead of them.

Although they never left the backyard, they had as much excitement and entertainment as if they had gone to a real jungle.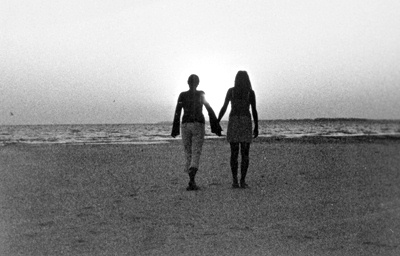 © Kim B., Marblehead, MA