The Shot Heard Throughout Fargo
January 8, 2018
My journey to completing a full marathon started the second day of eighth grade football. We were required to wear shorts and helmets because the first week was always "no contact." Agility stations were on the practice plan for the day. When I got to Mr. Cook's station, which included backpedaling around cones, being as competitive as I am, I was giving this drill one hundred and ten percent. The next thing I knew, I was on the ground in excruciating pain. I fell while participating in the station and stuck my arms back to catch myself, which ended up being too much stress on my adolescent bones. Instantly I knew that my football season was over. I had put in countless hours of sprints and agility work during the summertime to prepare for football. All that time I spent and training I did was for nothing. The injury was depressing to say the least, coming off our best season the year before.

The cast on my arm felt like I was carrying around a big club, which got annoying rather quickly. It had been a couple of weeks after I had fractured my wrist when I ran into Mrs. Johnson, our school's cross country coach, in the hallway.

"Hey Austin, I heard what happened to you at football. It's not too late to join cross country!" She said enthusiastically.
"I'll consider it." I replied, not taking the offer very seriously.

I went home that night and talked to my parents about the pros and cons of joining the sport that I knew little about. After sleeping on the decision, I got all of my paperwork in so I was eligible to practice the next day. The first month or so of cross country, I didn't take it seriously. In my mind, I felt restrained, and I couldn't do as much as I would have liked to do, with a giant club on my arm. In all reality the cast weighed less than a pound. I was typically in the back, making new friends with other slower runners. I started my running career on JV, but as my weight dropped, so did my times. Every race was better than my last. I actually started to enjoy running. I remember several times that I stayed after practice to run just a couple more miles. The season flew by quickly, and by the end of the season, I worked my way up to being the number six runner on the section roster. As much as I missed the sport of football, I had a new found passion for running. This major improvement inspired me to challenge myself even more with my running. My step father had mentioned to me many times before that running the full marathon in Duluth was one of his greatest achievements in life. I then decided to sign up for the full Fargo marathon.

The Fargo marathon was held in May, which meant I would have to train in the frigid Minnesota winter. The first thing I did in preparation for the marathon was make a trip to Scheels in Fargo to purchase some high tech running clothes that could withstand up to subzero weather conditions. That would make the training a little less miserable. Once winter finally came around, I was so busy with hockey that I could hardly find the time or motivation to train. I had probably run only six times all winter, with the farthest being only eleven miles. I was quickly losing interest in running, and eventually forgot about the marathon until the middle of April. Having only trained a handful of times over the long winter, I found myself frantically attempting to transfer to the half marathon instead, but I was two days too late. I was really worried about running the full marathon. However, I figured that if I had enough determination, I could do anything that I set my mind to.

On the day of the race, I remember waking up at six in the morning, feeling well rested after getting nine hours of sleep. I was extremely nervous, as I did not know what to expect at all. It was to my advantage that my stepfather had been in the same situation I was in, so he was giving me tips throughout the morning. My parents made me a light breakfast that consisted of sunny side up eggs and whole wheat toast. I didn't want to eat too much, because I didn't want my meal to make a reappearance during the race. My parents and I got in the van and headed off to Fargo. I had originally planned on sleeping the whole way there, but I was far too nervous to close my eyelids. Instead, I passed time by coming up with a strategy that would give me a chance to reach the finish line. After listening to some advice from my step father, who was an experienced marathon runner, I decided that my plan was going to be to pace myself.

The drive to Fargo seemed far longer than the hour and a half it normally takes to get there. Once we got into town, I noticed that there were cars occupying every possible parking space, which made parking a very difficult task. As I got out of the van, I instantly felt the cool spring breeze mixed in with the morning sun. It was fifty five degrees and partly cloudy, so it was nearly perfect running conditions. It was time to head over to the starting area where thousands of people lined up for all of the different races being held that day. The race was about to start any minute. I happened to spot my physical education teacher, Mrs. Galzki, waiting in a separate line. It really helped calm my nerves seeing somebody else I knew about to do the same thing as me, only for a shorter distance.

"Good luck Austin!" she shouted, trying to be heard over the huge crowd.
"Thanks! Good luck to you too!" I nervously replied.
The sound of a nearby gunshot carried throughout the city of Fargo.

My heart dropped instantly, knowing that I wouldn't see the finish line for at least four more hours. I was at a stand still, waiting for the huge crowd ahead of me to start the long journey. The first couple of miles were the most enjoyable part of the race. I was feeling great, and the positive energy from the other runners was unbelievable. I could hear a pep band playing over the cheering of the crowd. A few runners ran by my side to ask me about my age and how they were impressed that someone so young was competing in a full marathon. I really enjoyed chatting with other runners, because it made time go by quicker, and it kept my mind off of the fact that I wasn't even halfway finished yet. The first twelve miles were the easiest. Once I reached the halfway point, my time was one hour and fifty minutes, which was much faster than I had anticipated.

At the fourteen mile marker, there were people lined up on each side of the road holding water guns. The feeling of cold water on my sweaty body helped make the blazing sun less of a factor. I purposely jogged slower in that stretch so I could soak up as much water as possible. My body may have been soaked, but my mouth was drier than the Sahara Desert. I soon came across a water stand, just when I needed it the most. %I grabbed two cups of water while I jogged past the stand, and finished them faster than a slapshot from the blue line.
Shortly after I passed that water stand, I noticed my legs start to lose feeling. With nearly seven miles to go, I was in desperate need of motivation. I wanted so badly to give up at this point, and was on the verge of doing so. It seemed as if God was looking out for me, because I could see my parents holding a couple of signs waiting by the mile twenty marker. I was really emotional at this point, and even cried a little. I have never been pushed to these limits before, which is the reason I started to cry. I jogged towards them and was greeted by encouraging words, a banana, and an ice cold powerade. My tongue acted like a sponge and absorbed any liquid that entered my mouth. I said goodbye to both of them, and resumed my journey to the finish line. All of a sudden, my mom was running by my side, and continued to do so until she got tired.

"We will see you at the finish line!" she said in an optimistic tone.

Seeing my parents gave me enough motivation to finish out the last 6.2 miles. I don't remember much about the next five miles, because I was in rough shape and was only focused on reaching the finish line. I could hear the faint sound of music, and knew that it had to be coming from the finish line. Prior to the race, I was told that the last mile was going to be much more difficult than the first twenty five miles. I was so focused on reaching the finish line, that I didn't even notice the crowd cheering us runners on at this point. The smell of pizza was more encouraging than any words at the moment. After each corner I turned, there was still no finish line to be seen. This was extremely frustrating, and I felt like I was trapped in a never ending maze. However, when I finally saw the finish line, I recall that very moment being one of the happiest of my life.

As soon as I reached the finish line, they placed the finisher's medal around my neck, and I immediately went over to my parents and gave them a big hug. Without them, I wouldn't have made it across the finish line. My final time was four hours and fifteen minutes, which was enough to take first place in my age division. I had learned a lot about myself through this great feat that I have accomplished. I learned that with determination, anything is possible. Completing the marathon without adequate training was much more mental toughness than it was physical ability. I never would have guessed that I'd be in this position nine months after I was laying on the football field in excruciating pain.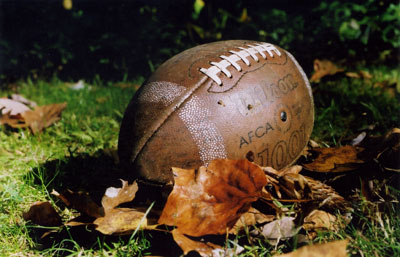 © Michael L., Bethesda, MD