Appreciation Is Key
November 1, 2017
The evening prayer ended, murmurs fading as I picked up my fork and knife. It was a late night in June, and my family and I were digging into some roasted chicken. Eating together every night was a common tradition of ours. As usual, I did not talk much- only pausing to nod as my parents asked me about if I had a good day at school. It was at this time in my life where I prefered to focus on my friendships, barely acknowledging my family. My daily routine consisted of school, homework, dinner, and "me time". Even on the weekends, I regularly hung out with my friends, leaving my family to be with them instead. My parents claimed my attitude towards our family was unacceptable, and such exchanges often resulted in blow-out fights. Phrases like "taken for granted", "never communicate", and "barely a family member" were commonly used. Fight after fight, lecture after lecture, one would expect me to learn my lesson. How many more times was I going to be grounded until I surrendered? I sat at the table silently, having finished my dinner. My parents glanced at me, saying: "Appreciate the things you have now, you never know when you will lose them". I was the middle child, and had two brothers. I knew the phrase was directed towards me, even though they were pretending it was not. This was not the first time they had uttered this expression; in two months, my older brother Stefan would be leaving for college. Perhaps they believed that the redundancy of this quote would jolt my senses, and help me show an ounce of discomfort towards my changing family.

After receiving the news that Stefan would be attending Georgetown University, my mom and dad breathed a sigh of relief; one down, two more children to go. While my family was happy, there was sadness evident in their attitude. Stefan had been my younger brother Gustav's best friend through the years, and his departure to college would no doubt be miserable. My parents were both suffering from "Empty Nest Syndrome". I, on the other hand, to put it nicely- did not really care. Stefan and I had never been close- having different interests, schools, friends, and lifestyle. I rarely communicated with him, only when it was through text and to ask him for a ride. The only bond that every really connected us was through blood, and without it- our relationship did not amount to much.

Swiftly, the two months arrived, and we drove to Washington to drop Stefan off. I remember this moment so clearly, talking in the dining hall with my family and eating our last lunch together for a long time. My mom was conversing with Stefan, asking him if there was anything else they needed to do. I could tell that my parents wanted any excuse not to leave, and it was at this moment that I remembered their quote from dinner two months before. "Appreciate the things you have now, you never know when you will lose them". As Stefan turned the corner, hand raised in a silent goodbye- I realized the true meaning of the quote to me.

On the drive home, I felt emptiness. Yes, Stefan was gone. But it was the lack of action I took to grow our relationship that affected me the most. Instead of focusing on what was going, I should have appreciated what was still present and took advantage of my power to hold onto it. Despite the unpleasant experience, there was a silver lining. Though it took a while, I learned the importance of appreciating and valuing relationships and have improved. During dinner I make an effort to converse, talking with my younger brother even if it is just to ask what he ate for lunch today. I now know from experience that the preservation of relationships is significant, and appreciating them is so important.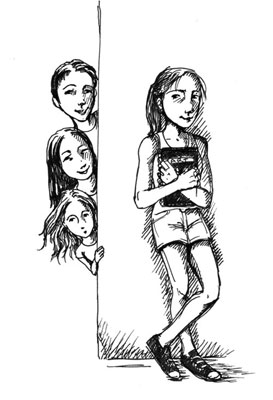 © Leonora J., Fullerton, CA