Downtown Mile
October 24, 2017
I was approximately three-quarters of the way through when that familiar numbing feeling began to kick in.  My feet were on fire, my legs felt drained, and my arms became weights.  In that moment of displeasure, I thought to myself, "Why am I doing this?"  From there I turned my undivided attention from the backside of the competitor ahead of me to internal thoughts in the hopes to find the answer to this question.
Tradition has always played a significant role in my family.  Whether it is a customary practice such as a middle name being passed down through generations of men or an annual event such as a Thanksgiving dinner being generously hosted year after year, I have been raised to cherish all of it.  However, my favorite tradition comes around on the final Friday of every August.  The Downtown Auburn Mile is a local road race that is basically built up to the magnitude of the Olympics in my family.  My parents have been signing my brothers and me up for it since we were kids, and we always looked forward to the race as a way to cap off our summer on a good note.  The first time that I ever participated in the Downtown Mile was at seven years old.  After my initial run, I was pleased with my time that was narrowly below nine minutes, but it was a very short-lived triumph.  When the winners were announced, I was in absolute awe.  How was it even possible for someone to complete that entire race before I even finished half?  I still remember the name of the man who won that year, along with the few that followed him.  These people essentially served as idols for me throughout my youth because of their sheer pride when it came to serving as their hometown champion.  It became a title that I coveted, to represent my city in a tradition they embraced so dearly.
As I matured, the race's importance grew as well.  I became inspired to join the running teams at my school in order to continue to improve.  Running had become more meaningful than ever before.  My family started to realize what I could do.  My community started to realize what I could do.  All I had left was to convince myself of my own capabilities.  That realization took place exactly ten years after the first time I set foot on the course of the race.  It was a revelation that made me more determined than ever. 
In a fairly sudden manner, the answer to my question appeared.  In that moment I opened up my stride and whizzed right past the leader with my newfound sense of ambition.  As I rounded the bend into the final straightaway, there was nothing that could stand in my way.  I glanced to my left to find my father shouting words of encouragement along with the remainder of the crowd that lined the street.  Why was I doing this?  I wasn't just doing this for all of them. I was doing it for that seven year-old kid who made it his one true goal.  On that day, the kid achieved something that he could value for a lifetime.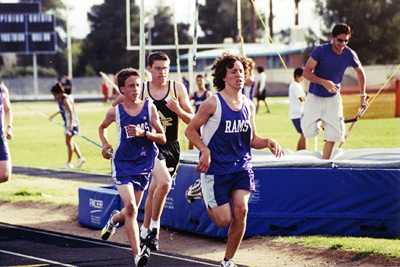 © Andy G., Phoenix, AZ