Strange
October 19, 2017
Strange. How we express our love.

"Why are you crying?" My ten year old heart thundered in my chest and my eyes furiously roamed over my little sister. Pale pink ribbons at the front of her dress were torn. My little five-year-old tweety bird, huddled in the corner of the bus seat. Tears spilled from her doe brown eyes as she pointed to a boy my age across the seat. He laughed at her. He stopped laughing pretty damn fast when I grabbed the front of his collar with a clenched fist.
Strange. The love we barely remember.

I bear curls like Merida's from Brave. When I was little, my dad brushed them back in the morning and set them into the ugliest ponytail you'd ever see. But he woke up, and he appeared, and I was so sure that was love.
Strange. The love that shocks the sadness out of us.

"STOP! DON'T GO IN YOUR ROOM!" my older sister bellowed.

"What? Why?" Frustrated from yet another practice of enduring the girls who whispered loudly and snickered at me, the new girl, I shoved her. "Hala seriously, I'm not in the m-".

"I know, I know, you're never in the mood lately. But just trust me, mama will be home soon, and she wants to see your reaction. Please, Hana."

I sighed, "Okay."

Later, I walked into my room and faltered. My room transformed in one day. Illuminated with fairy lights strung up on my wall with evident love and care, were old photos. A baby me donning a long wig, my sisters and I beaming at the California beach, my mother cradling me like precious glass.

"Guys..." I trailed off, heart expanding like a balloon.

Strange. The love that bears down on our shoulders.

"Hana is different. She gives me hope. When I get old, I know I will be with her. She will make me so proud... She keeps me living…" I slumped on the staircase, just out of eyesight of my mother and her friend. I caught every word, and empathized with Atlas, the titan who bore the world on his shoulders. My mother exists as my world, and hearing those words made the world almost heavier than I could endure.
I would be better. I would do better. For her.

Strange. The sacrifices we make for the people we love.

I sent a message to my sister when she fled our home. Delivering those words to her meant emptying the pockets of my soul until they were turned inside out. The first message from me despite all the phone calls my family had been frantically making. I knew she needed to blame me for her choices, so in that message, I blamed myself too.

A moment passed.

The phone rang.

Strange. How my family, the people I love, intertwined with who I am, and I will still have to let them go. I will have to leave them behind, even though they forged my childhood, my identity, and my choices thus far. But I dream of a destiny for me. A different future, bright enough that I have to follow it.

I will attend college, and I will study hard, and play hard, and work hard. I will become educated and cultured and brilliant. I will bring life into this dying world with every child I deliver.

How strange, this voice inside me that orders me to runrunrun and perceive the world and be the world and find all the world at my fingertips. Stranger so, to know that wherever I go, I still have my family waiting for me, whispering into my heart, Go. We'll be here when you return.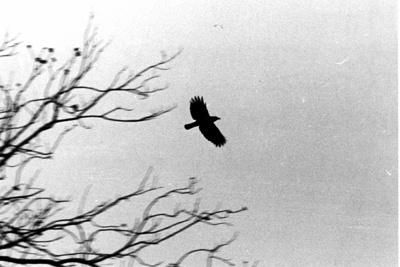 © Jacqueline T., Flowermound, TX