Back in My Days
October 12, 2017
Today September 27, 2017 I still remember going to Adventure City when I was four years old. I adored that day so much because one it was my birthday and two my whole family, my cousins, aunts, and uncles we're all there. Back in 2003, I built K-nex rollercoasters until I was twelve years old in 2011. I also remember in 2012 the first backwards rollercoaster I rode was X2 at Six Flags Magic Mountain. It's a ride with 360-degree rotating seats and when the ride begins to go straight down, the cart goes 180 degrees facing down! That's terrifying! On ordinary rollercoasters, the train stays in line with the track… but there is nothing ordinary about X2. This ride has groundbreaking sound of music, sound effects, and fire that have been carefully to heighten your total sensory overload. So while you are careening down the rails at 76 miles per hour through an unreal assortment of, dives, flips and twists, as well as two ultra-rare "raven turns" — half loops that will change peoples' minds. For me this attraction never gets old.

Tatsu opened in 2006. Tatsu is a flying coaster with an utterly unique way to ride—face down. This rollercoaster speeds up to 62 miles per hour. The structure itself is 170 feet tall, but when combined with the height of the mountain it's sitting on, you're in for a 263-foot elevation change over the course of the journey. You'll corkscrew down 104 feet, zooming around the track at top speeds and right into 96 feet of zero G roll. Twisted Colossus opened in 2015. It's a most innovation hybrid coaster. Still in its landmark location along the perimeter of Six Flags Magic Mountain and nestled inside the tracks of the behemoth coaster Goliath, Twisted Colossus remains the coaster monument most recognizable to millions of people who pass by the park each year….but now with an exciting twist.


My New Year's resolution in 2018 is to pass all of my tests, exams, studying day by day, my homework, sleeping between 9 and 10 pm, and at least getting a driver's permit. My second resolution is to get straight A's and work on my hardest subject I have. My past experiences have taught me several things. First time feels like it's been an hour but it have been actually been two. Next, they're many assignments to be done in action time. Last but not least, I have to spend more time with my dog, the instruments I play, and practing my tennis skills. This will be an excellent way of making my parents proud. Also, it will let me make my dreams come true and it will definitely make me great in progress. Like when I see movies or books, I hear people describe a defining moment when they figure out who they really are.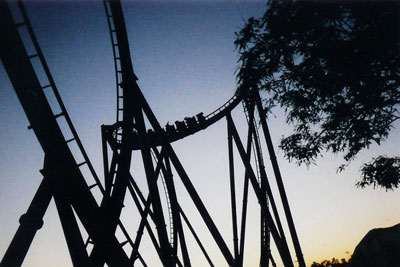 © Aaron S., Shelby, NC