Next
February 26, 2009
Viva La Vida - - too introspective. Next.

Sweet Child O' Mine - - too hardcore. Next.

Mambo Number Five - - too nineties. Next.

Open the Eyes of My Heart, Lord - - too - - What? Too religious? Too appropriate? Too many memories? Scrolling through my iPod, I move towards skipping the first Christian song that comes up. My finger pauses. Should I? Wait. Why do I keep it on my playlist if I never listen to it?

The summer after my freshman year, I knew that I would be moving from Simpsonville, SC, to Mason, OH. It was hard for me, but I found help from my church youth group, LIFETeen. Being Catholic in the heart of the Southern Baptist Bible Belt, we bonded over the number of times we'd be stabbed with 'Are you saved?', 'Why do you worship Mary?' or 'You know you're going to hell, right?'. It hurt to have to share that I'd be leaving my closest friends, but we all tried to savor my quickly disappearing summer.

In late June, LIFETeen went on a statewide retreat. With less than fifty people attending, our friendships bloomed. It was the closest I've ever been to a perfect world. The only fault was its length: six glorious, numbered days.

As corny as it sounds, God revealed my first best friend to me at Adoration on the fourth night. Christina went to my church, but our friendship had never been anything exceptional. I had been worried about being able to maintain my faith when I moved away from my core in Simpsonville and needed someone to keep me accountable for my actions. I needed her in my life, and we've been 'accountabilibuddies' ever since.
I told Christina when I stopped giving second chances to the youth group at my new church; it lacked depth and was entirely socially based.

It was the first step I took away from South Carolina.

I grew attached to the Drama Club at Mason, and met the people that I hoped could replace my LIFETeen friends. I was introduced to incredible theatre and amazing soundtracks from breathtaking musicals, Spring Awakening in particular. I had heard of one of the songs, 'The Bitch of Living,' but I never listened to the rest of it. I fell in love with the show, and learned to appreciate all shows that came my way, regardless of their content. I don't think I ever told Christina about the song.

The next step.

The life with which I had been so familiar in South Carolina turned into something different, something unexpected. I had been so intent on proving my faith to others; I never dreamed I'd have to prove it to myself. When the time came, my weaknesses took center stage. I defaulted to sinking into the chorus of routine, never considering a harmony between my two homes: Ohio and South Carolina, theatre and my faith.

In my pause before skipping the song, the first verse of 'Open the Eyes of My Heart, Lord' begins to call through my speakers. I don't know whether I have the strength to listen to my previously favorite song. The guilt in my heart is evident only to me as I begin to cry, an unexpected feat for my recently detached self. Wiping away the excuses, my iPod sinks to the ground as I am cradled by the song.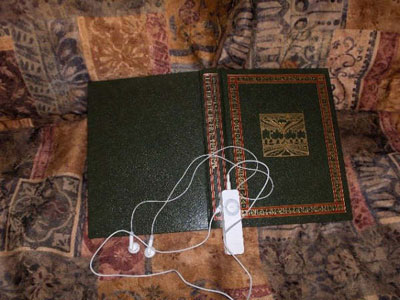 © Sarah I., Surrey, BC, Canada