No Turning Back
MAG
February 19, 2009
Gasps sounded as lightning flashed. In the two seats next to me, my friends were sleeping peacefully. I, however, was wringing my hands; I was scared. It wasn't one of those absolute horror moments, but just pure anxiety rearing its head. I was 16 and on a plane over Guatemala City.

As the lights came on in the cabin and the pilot explained that they were preparing for a lightning strike, I knew there was no turning back. And somewhere deep down, I knew that the coming week would change my life. There was no turning back.

I could write for hours about that one week, during that one summer. I could write about the markets, the mission house, Amor del Ni'os, and all the smiling, disabled children there. I could write about the relationships I formed with people who took that journey with me, but what struck me above all else were the Guatemalans.

I met a widow with grown children who cried and hugged and thanked us for the home we gave her. With tears rolling down her wrinkled face, we held each other. I personally had not worked on her home, but that didn't matter to her. As a group we had come from the United States and given her a home when all she'd had before was cardboard covered with plastic bags. The homes we made weren't much – four walls and a roof, all of tin, on a cement block 10 feet by 10 feet. I wouldn't even call them shacks. And yet, the people were so thankful.

I met children who had nothing compared to me. Shoeless and in ratty clothes, they played in a yard – if they were lucky – inhabited by emaciated pigs and chickens. At one home, three little boys came out to greet us, one named Michelangelo. He played on a barbed-wire fence while he watched us, always smiling. They smile a lot there.

After that summer and that one week in Guatemala, I entered the twelfth grade and realized something about myself. Making an A in AP Calculus wasn't as important as it once had been. I have always been a straight-A student, perhaps I always will be, but the grade I earn in some class in high school doesn't really matter in life. What matters more is what I do with what I've been given.

People in Guatemala have nothing, and yet they continue. I have everything going for me and I can no longer ignore that. In my life I plan to use what I have to benefit others.

All that I do, academically and intellectually, I do for the purpose of helping others. When I work and achieve good grades, good test results, I do it not to brag but to open more opportunities so that I might go even further and some day help more people. Yet in the same way, when I have a test the next day and a friend calls, crying, I now realize that it's more important to be with that friend than to make a perfect grade on some test.

When preparing to land at the airport in Guatemala City, our plane was not struck by lightning. I, however, was struck. I was struck by reality in that week. I was struck by compassion for those who have nothing. And there's no turning back.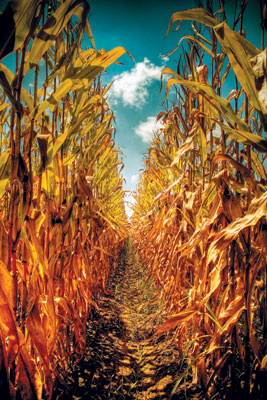 © Taylor M., Pelham, AL