Diary of a Synesthete
MAG
November 25, 2015
My favorite number is papaya whip orange and my favorite letter is rose quartz red. I have recently come to realize that perhaps synesthesia is the reason why I spoke my first phrases at the age of eight months old, and why I am fluent in five languages. For as long as I can remember, linguistics has been my forte. Lately I have wondered what I would be like without synesthesia; would I be able to think about things that I do not have words for, or would I just not think them because I lacked words for them?
This fear of not being able to adequately express myself has encouraged me to appreciate the power of writing. After reading Vladimir Nabokov's autobiography, I discovered how similar the author and I are. As a child, learning new languages nourished Nabokov's delight in sounds and colors the way they nourish mine; in fact, words and colors are the reason I've learned to understand the subtleties of different cultures and create literary works of my own.
At six months old, I began to utter the red cadmium hues of Russian to my parents in order to get what I wanted. My Chilean daycare teacher taught me her mikado yellow songs and rolled her "r"s in Tiffany blue. Because I associate letters and numbers with colors, my transition into a French grade school wasn't very difficult, and by the age of six I was already proficient in three languages.
As kindergarten began, my days switched off between French and English classes. On auburn red Monday, amber orange Wednesday, and Carolina blue Friday, I'd learn the chocolate sounds of French, and on jasmine yellow Tuesday and shamrock green Thursday, I'd transition into the vanilla cadence of English.
After having taught myself the new dialects of Bulgarian and Ukrainian with the help of my knowledge of their Slavic cousin, I entered high school with a myriad of colors in my mind, giving me an advantage in finding a passion for reading and writing. As kids dreaded the readings and essays in English and humanities, I had the enjoyment of painting pigments of words in my mind and translating them onto paper.
Reading novels in their original languages abolishes the threat of anything being lost in translation. Russian literature such as The Brothers Karamazov introduced me to existential philosophy and free will while showing me the bureaucracy of the social reform under which my parents lived. French literature such as Waiting for Godot taught me about tragicomedy and the ideas of religion and absurdity, just as English literature such as Beowulf showed me that humanity is privileged because humans have the power to compose and recite language, and that is what distinguishes us from "the other."
Languages have exposed me to a variety of cultural ideologies and encouraged me to take advantage of the pigments in my mind to create my own art.
Oh, and in case you were wondering, my favorite number is six and my favorite letter is Q.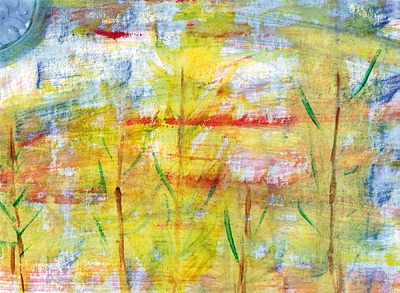 © Raymond G., Phoenix, AZ