Shaking
January 8, 2009
Fingers shaking. Twenty eyes watching. Hands shaking. Forehead sweating. Silence. They are waiting. Hands trembling. Heart beating fast. Tempo. Sounds. Rests. Mistakes. Those are the things that ran through my mind when I first performed in front of an audience. I was nervous and there was no escape! The piano was probably ten meters away from the exit door—for me it seemed like twenty miles away. Defeat. I played through Bach's Seventh Invention with shaking hands. It sounded awful.


But this particular event encouraged me to work harder. Instead of just quitting piano lessons I asked my piano instructor questions regarding techniques that many professional pianists use while performing. I also asked my teachers and they told me to picture the audience in their underwear, but that would be quite silly.


"It takes a great amount of practice and experience to be a good performer" was the soundest advice I got from them. So I practiced more. But suddenly, I got frustrated, thinking that I would never improve. Frustration is a sickening yet glorious feeling that many musicians experience during their musical career. My piano instructor and music teachers see it in my face whenever I encounter problems in playing specific phrases written on the music sheet. But I have always thought of my frustrated face as an expression that I am trying my best.


And I was indeed trying my best, and my attempts to improve were enough. I decided to move on to the more important part of my musical career: sharing music. I used to think that I was not born to perform in front of many people, but I realized that there are certain things that you are born with and these things are different from the ones that you have to acquire. Nobody is born with any musical talent because talents require an adequate amount of hard work and musicality requires an abundant amount of love and emotion. I have acquired these things.


Self-destructive thoughts filled my head once again: "You're going to shake again for three minutes!" No! I might shake and I might get nervous in the future but I shall never forget what my Classical piano is all about—I just want to play and I want to share it. My name was called out. I stood and walked slowly, straight towards the school's upright piano. Is it going to happen again? I sat in front of the black and white keys. Fifty eyes watching. Calm. Steady Tempo. Mellifluous melodies. Emotional rests. I just want to play and I want to share it. And with loose hands I played through Bach's Eighth Invention.


It sounded brilliant.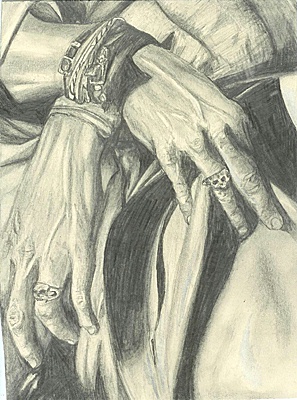 © Angela K., Kansasville, WI