A Divorce Was Never So Good
January 22, 2009
Sundays in Brazil are like holidays. Everything stops, families get together, wives cook a fresh batch of rice with potato salad, and husbands smell like charcoal from preparing the most delightful barbecues ever. Barefoot children imitate their favorite players on the dusty soccer fields. All that action would stop at noontime so everybody could kill their hunger with those irresistible dishes.

Outwardly, my family was no different. My mom cooked, my dad drank his beer in the back of that pink colored building we lived while my best friends' dads prepared our barbecue, and like many others, I was at the field dreaming of one day becoming one of the nation's idols.

Inwardly, however, my life always differed a little bit from my friends' lives. Seeing my parents arguments every now and then would hurt me deep inside and make me wonder if all that craziness was necessary. As an only child, it was very difficult to see my mother in her bed drying tears at sunset, with that seven-news song in the back of my head.

At age nine, all I ever feared was about to become true. I have to admit I was not shocked when I received the news that my parents were getting divorced, but those Mizuno shorts and those Havaianas sandals dad was wearing on that chilly afternoon will be forever remembered. Our tears finally came down, and I could not recognize my father as he cried uncontrollably like I had never seen before. After that moment, I realized I had to get ready for a new beginning.

After the divorce, my mother became more courageous and did things she had always dreamed of. She learned how to drive and went back to college to get her degree in Geography. Then in 2003, an opportunity for us to come to America surged. My mother decided to stay, but I went back with my grandmother. It was at this time that dad and I became extremely close; we weren't just father and son, we were best friends, and, most importantly, we were family. Soccer games, beaches, and amusement parks were some of the things we did together during that time.

Two years later I'd be coming to America for the second time. But now I wasn't coming for vacation, I was here to take care of my future, my goals. Knowing that dad was married again, and there was another Silveira coming to life, I took the challenge and came. But these were not the main reasons why I left dad there. What really gave me a push to come to a country that I knew nothing besides what the movies showed was the relationship with dad that developed after the divorce. He had made me feel so comfortable about our situation that I knew he had my back. I knew I could count on him, and I could tell dad was feeling the same way.

Presently, I am away from dad, family, and friends, working my way to the top, and trying to make my dreams come true. As controversial as it sounds, I thank that sorrowful event of my parents' divorce for putting me in the situation that I am today. As I apply to your prestigious institution, I cannot help but think to myself that if it weren't for my parents' divorce, the chances I'd be graduating from Everett High School and pursuing a college career would be extremely remote. Unfortunately, or maybe fortunately, I have to admit, a divorce was a blessing in disguise.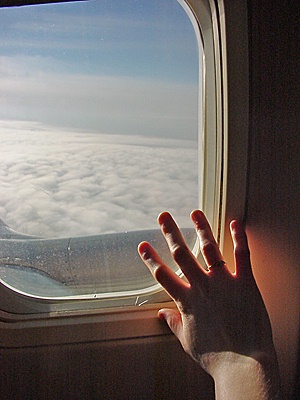 © Greg K., New Lenox, IL