My Arrow
September 14, 2013
The summer before my senior year, my family and I packed up our home and moved nine hours south, to a ritzy neighborhood in Glen Allen, Virginia. After saying goodbye to my best friends and the beloved museum, I packed up my car and started the journey. I was trying to be optimistic; however the moving blues were taking over my body. Then, without a warning, a small- pickup truck swerved into my lane. This tiny automobile was a sign. I couldn't help but grin when I read the bumper sticker that was forced into my vision in the traffic. "An arrow can only be shot by pulling backwards, when life is dragging you back with difficulties, just imagine it's going to launch you into something great,". I needed this optimism. It's a constant struggle for me to deal with my past, I feel that the only thing that could potentially hold me back is who I used to be. However, this quote reminds me not to resent my earlier years but to appreciate my arrow's path.
I was born in Washington D.C, every Saturday I begged my mom to lead me though The Mall, I was enthralled by the Museum atmosphere and the history. At three, we followed my Dad's career to Richmond, Virginia. Then, once more, we followed my Dad's career to Vestal, NY.

When I hit high school, I may have grown up physically, however I was lacking mental maturity. School wasn't a priority for me; I breezed by with a minimal B average. Sadly, I didn't find joy in learning. Then, tenth grade hit and it hit hard. My grandma, one of the most admirable women I know, had a stroke. The concept of death was foreign to me and my carefree existence. If that wasn't life changing enough, tenth grade was the year I almost lost my Mom.

My mom was diagnosed with stage three Breast Cancer. There are no words to explain the fear that struck my body. My mom couldn't be sick. However, cancer doesn't discriminate. So, the chemo treatments began, the wig shopping started, I missed a lot of school to stay home with her. My grades suffered. When my mom was sick, I had to take charge of the household; I was a sophomore in high school. My Dad wasn't around during my teenage years, he had gotten arrested. Not having my Dad around was hard; however the women in my life made it much more bearable. The final traumatic event that strengthened my internal strength was my concussion. I couldn't go to school for the entire last semester. I couldn't see my friends. I could barely leave my bed.

That bump on the head was exactly what I needed. All those obstacles made me have this thirst for success and determination to make a difference in my life. During my junior year, I got a part time job, became the only student volunteer at my town's museum, discovered my passion for politics and made the honor roll. I started to love school again. My mom recovered and although starting senior year at Deep Run is indescribably difficult, I am determined to adapt and work to prove myself in the competitive school system.

I am not my past, my experiences just allowed me to find myself. At my lowest point, I would've sworn destiny had it out for me. However, my arrow was just getting stretched back so it could soar. Making my family proud was immensely rewarding, but being proud of myself was an indescribable feeling. This pick-up truck told me to keep pushing, it reminded me to keep working for my dreams of education. I haven't reached my full potential yet, my arrow isn't done soaring and it's pointed directly towards George Mason.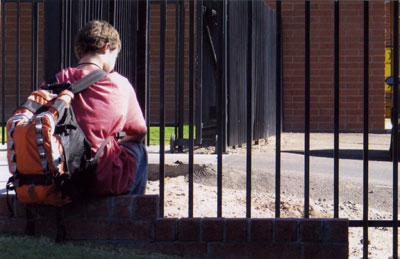 © Molly L., Phoenix, AZ