Reading the TV
August 11, 2013
I have always been fond of saying that I "read", rather than "watch", TV. I do not read the TV in the most literal sense; I do not require closed captioning, nor am I a karaoke aficionado. My TV literacy, in fact, is carried out in another platform entirely. This medium is print, in the form of a periodical known as Entertainment Weekly.

Cringe-worthy acronym aside, EW became to me an instant source of delight from the moment I laid my eyes on the cover of my first glossy issue, one that featured the four femmes of Sex and the City in white dresses and neon "statement heels." At the time I was in middle school, and I'm not sure how this publication, especially this particular issue, managed to infiltrate my PG-rated household. Perhaps it was a free trial offer, divine intervention, or the mailman punishing my parents for something - but after the first issue, I was hooked.

EW was chock-full of lists, interviews, features, and reviews of movies, TV, music, and books; some of which I was familiar with, but all of which my middle schooler brain devoured with zeal. Despite my naiveté, I soon understood that the content of EW was far superior to the celebrity drivel of your typical waiting room tabloid. I came to this understanding not because I read publications similar to EW and compared their content, but because I quickly realized that Entertainment Weekly, along with Rolling Stone, was one of only two sources of movie review blurbs that advertisers felt comfortable attributing in an intelligible font size.

EW not only introduced me to the concept of ethos, but became my education in "the industry." I learned art history when reading about the special edition DVD release of Alfred Hitchcock's most celebrated films, investigated the economics of Steven Spielberg's cinemapocalyptic prediction that movie ticket prices would soon rival Broadway's, and studied the sociology of NBC's ratings triumph in the coveted 18-49 demographic after a nine-year lag. The magazine also taught me, quite literally, how to think critically. The seemingly nitpicky film reviews of critic-in-chief Owen Gleiberman, whose cultured cinematic tastes were so bafflingly opposite of, and totally anathema to, my kitschy pre-teen ones, forced me to broaden my film going horizons.

My TV-reading only became commonplace when I began the academic, extracurricular, and social whirlwind of high school, when, involved in a variety of new pursuits, I found it difficult to keep up with my favorite TV shows - most of which, by no coincidence, were favorites of EW as well. To compensate, I read each issue's entire TV review section, and doing so provided me with an unprecedented ability to relate. Now I not only experienced the limited number of shows I preferred, but all of those covered. I soon found that I was able to participate in TV-centric conversations with people of ages, backgrounds, genders, and TV preferences different from my own. I chatted with my guy friends about Breaking Bad over chemistry homework, debated with my 75-year-old grandmother as to whether or not The Bachelor was scripted, and discussed with my babysit-ees the wacky premise of Ant Farm, as well as the manner in which a poorly cast Vice Principal can make or break a Disney sitcom (a statement with which, to this day, I wholeheartedly agree).

High school becomes exponentially busier each year, and I'm now a senior whose subscription to EW has long since expired. Through my interactions with a variety of viewers, the TV reading that Entertainment Weekly allowed me to undertake revealed to me a merit of media that is often overlooked in our uber-connected world, a quality drowned out by claims of society's technological attachment and subsequent dehumanization. Communication has the power to connect us, to participate in vibrant and innovative ways in that time-honored human tradition of storytelling.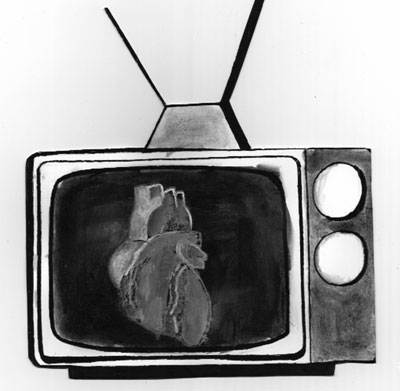 © Brooke S., Indianapolis, IN