Aut Viam Inveniam Aut Faciam (I Will Either Find a Way or Make One)
May 2, 2013
I don't exactly fit in with my own family. Not like Hades, banished to the underworld, but more like Hercules, different but still loved. At the numerous Russian family gatherings throughout the year, custom requires that everyone gives a toast in honor of the guest or occasion. As the youngest, my turn usually comes at the end, when repeated warm blessings and kind words sound cliché. My sister encourages me, advising me to just say what I feel. I feel… I feel like I'll be choosing between sleep and homework tonight. I feel like there's a paper I should be writing. I feel like the odd one out, not having spent half my life in the former Soviet Union and without a firm grasp on the Russian language.
My parents have a hard time understanding me, an obvious problem considering the language barrier. Activities I have been involved with for years, like Certamen and Forensics, are foreign concepts to my parents; things that are basic knowledge for anyone who has grown up in America are vague concepts to them. Consequently, my sister and I act as small, live-in professors, explaining as much as we can. I remember helping my sister explain what a "hipster" is; I recall a college admissions session where my parents asked me what a fraternity was and why everyone in one was Greek.
At the beginning of freshman year, I felt anger towards my sister for leaving the family behind to start college in a distant land. At fourteen years old, I was left to act as the glue for a suddenly cancer-stricken, crumbling family. With my mom beginning her chemotherapy treatments, and my family struggling to pay for them, I had to adjust. Thankfully, on the first day of high school, I was saved.
My school's Latin program welcomed me. When I dreaded the end of the day, dreaded the transition from school to home, the classroom filled with Roman figurines and miniature monuments offered refuge. I made friends who were older than me, and they became supplemental role models in my sister's absence. I could act as the bride in a traditional Roman wedding, or be smacked with a wet pine tree branch to be christened with my Roman name. Most importantly, I could be myself. My first State Latin Convention revealed the five hundred Wisconsin classicists that understood me. Hoping to show hundreds of kids who felt as lost as I once felt that they too could find their place in Latin, I ran for local and state office. I will be turning eighteen at State Latin Convention this year as WJCL president, and I can't imagine a better place to celebrate.
Despite language barriers and cultural differences, I love my parents. They love me too, though I will never be the superhuman doctor/lawyer combination they think I'm destined to be, and my copper colored hair will never match their dark brown. However, I have found solace in a culture that taught me to either find a way, or make one. Soon, it will be time for my own journey to a distant land -- like Hercules ascending Mount Olympus. While my family and Latin community may not be joining me, I don't think I'll have a problem fitting in.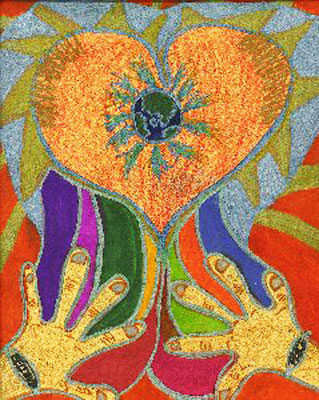 © Amanda P., Clermont, FL