College Essay
August 10, 2008
A dead end street sign lingered before 17 year old Shahnaz Begum's eyes. It was a busy Thursday evening and everybody in Shahnaz's house located in a small town in Bangladesh was getting ready to eat dinner.She helped her mother set the dinner table as the strong aroma from the food excited her taste buds. Unfortunately, no one ate dinner that night because sorrow hit their fate in a matter of a second with the news of her father's gruesome death. This had completely shattered her world and she had to give up a lot. Although she dreamt of pursuing a higher education, this hope evaporated. All that remained was a deep scar in her heart and seven siblings to take care of.
In, 1991 Shahnaz brought me into the world to pick up where she left off. While death stunted her aspirations she could not let the same fate trample her daughter. To make sure that I receive the best education, we moved to the South Bronx in New York in 2000. As a little 9 year old from Bangladesh, I barely knew how to speak English. I remember that awkward day of my life when I set foot in an American school. I was really nervous as my parents escorted me to my new class because I didn't know what was going to happen. I had butterflies in my stomach.
Despite the fact that I didn't know how to communicate much in English I didn't give up. To improve my English, each day I sat in a boring yet helpful ESL class. After I returned home from school I would sit down with my books and start homework. Sadly, no matter how hard I worke on the homework I would get really low grades which eventually upset me. Determined, I did not allow the situation to take control of me rather I took control of the situation. While I was fighting this obstacle, my mother stood by my side as my strength and told me "you can do it". I continued taking the ESL class and read books which gradually helped me to learn English. As a result, I now stand at the same crossroads my mother faced as a 17 year old-but this time her dead end sign takes the shape of a green light, urging me to follow in her non-existent footsteps, ones she mapped out yet never had the chance to walk. Standing in my mother's shoes I appreciate the opportunities that are before me in the realm of education. Her incomplete dream has turned into something meaningful to me. Therefore every moment of my life I try my best to accomplish it.
Growing up in the South Bronx I rarely had access to all the great things that kids who attend wealthy private school have. But that did not stop me from fulfilling my dream and it necessarily didn't mean that I am not capable of doing what they could. I took hold of what was in front of me and instead of waiting for someone to give it to me, I made the best out of it. For example, students who attend private schools have the opportunity to partake in various classes and programs. On the contrary, in my school we were able to take fewer classes and programs because my school can't afford to have so many of them. I personally, wanted to take Spanish or French as my language class in the 10th grade. Regrettably, I could only take Japanese since that was the only class they had at the time. I was really frustrated because the class was difficult and I had no clue of what was going on. Surprisingly, as I understood the class I realized how fun and interesting the Japanese language is.
Now as a senior in high school I feel as if I have accomplished a lot in life by striving forward to achieve my dreams. Every morning I wake up eagerly and wait for new things to come my way. Today I can proudly announce that my mother is the greatest role model who has inspired me to face my battles and accomlish my dreams without any hesitation. Like my mother I too want to be a source of inspiration to others who face obstacles and teach them to chase their dreams.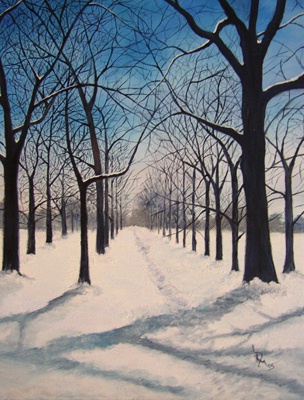 © Lauren M., Scotch Plains, NJ