My Other Half
November 6, 2012
As a child I had another half , a friend named Larissa. We lived in the same home, attended the same educational facility from day care to elementary. I saw her as someone who would be with me forever despite the fact that we had different families. But an incident occurred that began to separate us. My cousin came over to play with us for the weekend. My cousin criticized my her for being selfish. When Larissa joined us in the tent I saw the faults when we argued for the first time. This began our battle against society.





Looking back, elementary was a roller coaster. I felt more separated when my parents moved .We went to the same school but had different classes. I made friends and she had hers. Recess and after school was our only time together. I was satisfied with her but my friends were not. They saw the flaws I could not until they told me. Her personality bothered people . Still I treated her as my sister and because of that people began to see me as her. But I always told myself I was my own indivisual. I stood with Larissa because I knew her best and she knew me. Even though we quarreled, at the end of the day she was still like family.


But things changed in fifth grade. I got invited to parties, and more friends. Soon I was part of the as what I thought at the time "popular kids". The gap between my best friend and I grew wider as if huge wall blocked us from being together. To avoid eye conact with my friend filled my heart with guilt and dispear. Was this who I am or what I even want to be? I had no one to tell my dark secrets to or share each other belongings. I didnt undertand how I could have so much friends yet feel so lonely. At I felt horrible and empty like I was missing a part of me. My favorite shows Kim possible was the only show I watched repeatedly. As I was watching my heroic character I began to relate myself as Kim. She was friends with a person who everyone looked down on. She was not influenced by what others said because she knew her friend. No matter what, she was there. I swore a spotlight was on me with people pointing and laughing because I felt foolish. I was a idiot played by peoples words. Even though I tried to ignore peoples criticism, in the end their words won and turned me against her. Instead of sticking up for my beloved friend , I ignored her. Kim accepted flaws and that's exactly what I wanted to do; She was who I wanted to be. The next day I apologized and of course she cried. I was relieved and we grew closer than ever.

Kim possible influenced me and helped me accept people for them and not what I heard about them. Words influenced me at first but Kim influenced me for the better. My other half was once again by my side.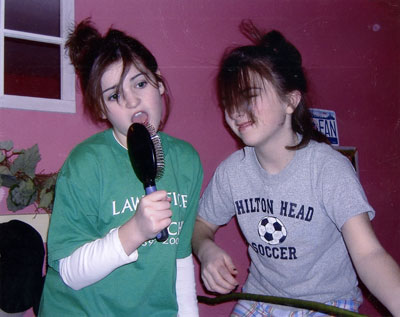 © Grace C., Poughkeepsie, NY