A Risk Well Worth the Reward
August 8, 2012
From a young age I've developed an ability to evaluate, analyze, and asses the factor of risk when making a decision. I picked this up from my father, who influenced me through his logically thorough nature. Any question along the lines of 'hey dad, why don't we do this?' has always been answered with a voice of reason, a product of evaluating the probability and favorability of every different outcome. I've always admired this inherent quality about my father, and know that he would have never been a Chief Risk Officer unless he set an example worth paying attention to in this regard. I try to mimic my father's method of ensuring that the right decision is made through weighing the risk versus the reward for all of my options, and last fall this proved to be worthwhile on the soccer field.

Soccer has been my sport of choice for as long as I can remember. My love for the game had always been there, but it wasn't until I was in sixth grade that I gained any real aspirations for my soccer career. I watched my older brother win Connecticut state championship with his Varsity team, and from the moment that I watched his team bask in the glory of a state title I knew that every season of youth soccer that I played would all be building up to the pinnacle of my days as a soccer player when I would play for that same team in high school. Hockey and Baseball always kept me from trying to become one of select few dedicated year round soccer players who played Varsity as an underclassmen. However, I knew that I was good enough to play Varsity for my final two years as an upperclassmen.

I could feel the blood rushing to my face when I gaped in disbelief at the list that designated me to the JV group for the final two days of tryouts. Anger was my immediate reaction because I felt as if I had played very well at tryouts and I couldn't help but feel that I had been overlooked. Devastated at the thought of not making the team as a junior, in my subconscious I hatched a plan to show up at the Varsity session the next morning ready to play and pretend as if I had gotten the times mixed up. Naturally I second guessed this unorthodox plan but reassured myself when I considered what I had to lose by at least trying compared to what I had to gain. Sure enough, my plan went smoothly and after tryouts had ended I had been assigned as a practice player with the Varsity team. Although I didn't have a jersey and I wasn't in the team picture, I already felt like the risk I took had payed off; the only thing I could do was give it 110% at practice and hope for the best. After an abundance of injuries had plagued our offense, I finally got my chance at striker in a critical late season game. Prior to taking the field, I took a moment to gather my thoughts and wrapped my mind around the fact that this was my chance to reap the benefits of my hard work. 'You deserve this. Go out there and show everyone why you deserve to play on this team' I told myself. Long story short, the part that I played in orchestrating the winning goal impressed my coaches to say the least, and quicker than I could blink I had earned the starting spot at striker for the playoffs. A few days later as our team lineup was being announced in front of by far the largest crowd I had ever played in front of, the announcer called out another kid's name and the wrong number for me as I wasn't even on the roster. Despite the nervous anticipation twisting in my stomach, I had to take a second to laugh and thanked myself for my perseverance at tryouts. The only reason I had been given this opportunity was because I refused to go unnoticed and decided to get myself noticed the only way I knew how.

No, we didn't win any championships last year, but regardless I'm sure that I'll remember last season for a long time to come. The foresight that I had to evaluate the risk of perhaps getting yelled at by a coach for showing up at the wrong time versus the potential at stake has caused me to truly believe that a risk is only worth taking if the measure of risk is equal to or exceeded by the opportunity for which you're taking the risk. My friends may have scoffed at me back then for trying so hard to get on the team, but in the end they were the ones watching me in the stands, and for that I am forever grateful that I took the risk that I did last fall.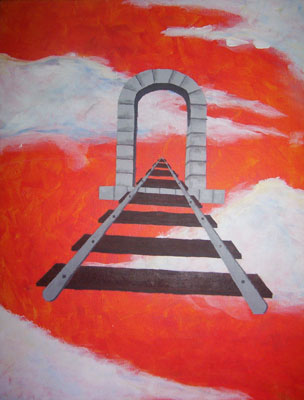 © Nicole J., St. Louis, MO