My Mother's Daughter
MAG
July 6, 2012
Ultimately, there is one moment in our lives which defines and shapes us. Good and bad moments stand out as definers and shapers: the day my mother died when I was twelve; the day my father broke the promise of no major changes for me; the day I received an A on a dreaded term paper; the day I ran my first mile after knee surgery.

The good and the bad times serve to encourage and validate us. But the one moment that struggles forward in my mind during my darkest hours is a conversation I had with my mother a year before she died. It is her quote, a phrase floating through space and time, that I stay with me. Sitting on the couch, watching television and talking, she suddenly said the simple words that I will remember for my whole life: "Never give up hope. Because once you give up hope, you give up everything."

Even though my mother has not been with me through the hardest moments in my life, and while she is fading and blurring over time, these words will never be erased from my mind. They still hold me while I cry over a boy; they tuck me in on the nights I feel alone; and they soar through my mind to lift me up again in times of sorrow.

I was not aware that my mother was very sick. We had our fights near the end of her life and the beginning of my adolescence. But with her death, all grudges, fights, and angry words began to feel inconsequential and dissipated. Of course, there were reasons and stress behind them, but I see clearly now all the true love and caring she had for me.

My mother, unlike me, knew that her end was coming. She had years to deal with the inevitable; I had a few moments in that hospital room to watch her breath leave her body.

Now, for me, hindsight is 20/20. She held on to so many hopes during those fragile last years. She hoped she would not die, but she was too much of a realist to let this hope consume her. Instead she was productive and ignored her fate. She hoped to give me as much of a normal childhood as she could through her medication, pain, and secrecy. And she succeeded.

I have never been to Disney World, but I have been to Maine. I have been spoiled and gone shopping and had pets and played dress-up. I never had a care in the world as a child.

My mother also tried to prepare me for the hard times she knew I would face. I learned to iron at seven. By the time she was gone, I could cook, clean, do laundry, and take care of myself. But most importantly, she taught me how to write, how to hold my head high and look people in the eye, to hold on to my morals and to be kind. I am happy because she taught me how to be happy. All the life lessons she could possibly have taught me, she did.

While I know that there will be good days and bad days, I also know that I will always have the smile that my mother gave me. I know that there will be days when, after work, I do not want to study – but I have my mother's passion for learning. I know that there will be days when I want my mother back, but I will always have her words and her memory to comfort me.

So I go on and live in honor of her, trying to be the best person I can be, so that the world can have a glimpse of this amazing person whose hourglass ran out too fast. From her words I have gained hope and determination, and from my hope and determination I will gain the success that she always wanted for me.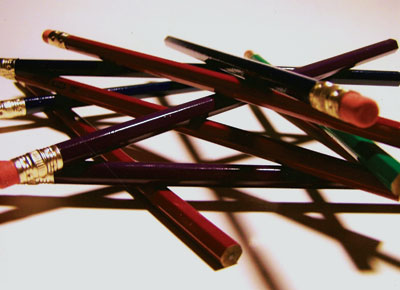 © Nicholas K., Weldon Spring, MO