The Art Institute of Houston
June 7, 2012
My career goal is driven by my ambition to succeed in life. The Art Institute of Houston will help me achieve that goal, to become a better person and to be open-minded towards everybody's opinions and style. In high School I spend my free time watching YouTube videos on new Applications(software), drawing, and reading Dr. Seuss books at a fast pace just to make myself laugh. I will set a timer for three minutes and read. I did read books in my age category! .But I didn't enjoy them so much because it lacked colorful images. But I enjoyed imagining my own world for those characters the authors were telling you about.

My freshman year in high school I didn't really know what I intended to take as an elective, so I did what every student would do and guessed. I guessed and chose Art 1. That was one of the best choices a student who loves colorful images could make. My teacher, Miss Galway, was a really great Artist she taught us about things that I taught wasn't possible. I was use to drawing Manga, but had no idea that you could shade to make it look life like. We drew shapes and created perspectives. My junior year in High School I took Art- multimedia. My teacher Miss Mandy Peyrani, She always made us do Journals which she didn't even take for a grade, but she made sure we did it. One of the Journals we did actually got me interested in Photography. We had to write a poem and post the poem somewhere and take a picture of ourselves next to it, but it had to be a creative picture. I got the chance to use a Dslr instead of the "point and shoot" this was my first time dealing with this "monster" with a big body and a huge eye. While learning to use the camera, it was interesting to know what you compose through the viewfinder is ten times better than the live view. It made me think of a lot of things to get that really creative shot I wanted. Before the end of my junior year in High School we had to come up with an idea for the Houston ifest that signified the theme China, India, peace and culture. I did a drawing based on the theme and to my surprise it was chosen. I felt honored to be part of something. At the end of my junior year I got an Award for an outstanding achievement in electronic media.

I expect my education at the Art Institute to be a new experience for me. Ralph Waldo Emerson said "Nothing great was ever achieved without enthusiasm". So, I'm ready with a positive attitude and a mind set to achieve my career goal as a Graphic Designer!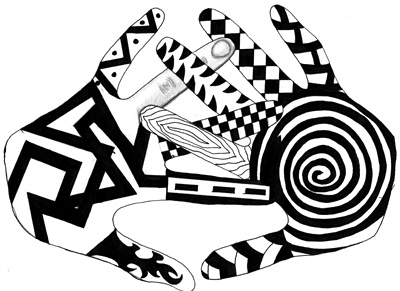 © Sarah F., Naples, FL