The Most Difficult Thing I have Ever Done
January 9, 2012
"Challenge" it self means "Difficulty", however, everyone in their life go through this practice. Some people give up, while some of them just try hard to get out of it. It's true that every person, once in their life has to face certainty, but they are afraid from inside of their heart to face it. But, you got to make your mind up and consider the fact. You got to think how to prevail over this difficult time. To prove this piece of information, I will talk with reference to my life. The most difficult thing, I ever have done in my life was that, I moved from India to USA as a settler.


Before, going directly to the point on how I moved from India to USA, I will like to first talk regarding my birth in India. So, I was born in India on 24th March, 1993 in a small city name Navsari which is very much located in Gujarat state, in India. In India, I was raised up. I used to study in Seventh-Day Adventist English High School, studied there almost from kindergarten up till 10th grade. I had bunch of friends over there. Some friends were extremely close to me, moreover they meant a lot to me. If they observe me in some sort of trouble they used to assist me. We all used to stay like solitary family and treat each other as a part of it. I, basically, used to stay in joint family. We have like a big, three storeys, mansion which is divided into four houses but they are adjacent to each other, each have four living rooms, four kitchens, each house have five bedrooms and three drawing rooms, and there is a big passageway which divides the kitchen and living area, we have an elongated balcony in which there are four swings placed, on which I used to sit every morning and every night to refresh my mind from all day work, I loved swings. There is a very big compound wall surrounding my house. There were four families staying in it, which were basically my cousins (my grandfather's three brothers including my grandfathers' family).

Now let me come to the point. It was a cold day. I was sitting in my room and was watching a television show. So, after a while my dad came home, he called me and my family in our living room. Then, he said that our immigrant file has been approved so we are going to USA. Everyone in my family was very happy. So, I went to my mom and started crying. My mom asked me, "What happen? Why are you crying?" At that very time, I was not able to utter a word from my mouth. By then the sun was setting down and the moon was rising up. My dad was sitting in his bedroom. I went to him to talk about that I do not want to go to USA and I will stay here with my grandfather and grandmother. But, I was afraid to talk to my dad about this. But, then I make up my mind and went to my dad. My dad I asked me, "What is wrong with you today?" I said, "Daddy are we really going to USA? Can we just stay here, Please?" My dad replied, "Yes, we are going to USA and we cannot stay here because I want you to make your carrier over there." I instantly said back to him, "No, I am not ready to go to USA and you all can go there but I am not coming with you. I will stay with grandpa and grandma." After having a conversation with him, I ran towards my bedroom and I was literally weeping. So many thoughts were running in my mind. I was thinking to myself that I will lose all the fun that I used to have with my friends; I will not have any relatives over there to whom I know. I will lose all the fun that I used to have with all my cousin everyday at their home or mine. I will miss my swing, my school days with my friends, and parties with friends. I just want to stay in India. I was also thinking that why my dad did not hear a word from me and tell me to do what he says to me. Everyone in my family as well as my cousins who were essentially my neighbors, come to know about our family was about to go to USA. I was not ready to go away from my cousins, my friends, not even from my house. But, then, I have to.


Soon, the day arrived when I was about to come USA. My flight was on 26th September, 2010, Wednesday. Some of my cousins come to drop us off to the airport. While we were coming to the airport, we had lots of fun together. Inside from my heart I was crying, but I did not want to show that I am really sad. So, I was talking, laughing, and was playing with my cousin. My friends were calling me on my cell phone and I really was not able to talk with them properly. I was really in a very big grief; I did not know what to do. But, I had no option instead. Finally, we reached airport and my cousins were telling us "Good-Bye" and they said that everything will be alright, don't worry. I hugged one of my cousins and I cried a lot in front of all. Afterwards I was going inside the airport and last thing I saw was that my cousins were waving their hands to say us "Good-Bye."

Finally, I got on the plane and the plane started moving, my heartbeats were increasing because I really did not want to go USA. As the time passed by I was more and more thinking about India. Everyone on the plane was sleeping but, I was weeping. Finally, we were in USA, I remember it was on 27th September, 2010, Thursday. I remember my aunt who is basically my dad's sister came to pick us up on the airport. We were then heading back to my aunt's home. I was constantly looking outside from the car window and thinking about India. Everything was changed, nothing was like India. I was thinking to myself that how will I stay here? Because the environment was not the one in which I grew up, everything seems different. I wanted to cry but I did not. By then, I reach my aunt's home and there were some guests at her residence that came to meet us (they were also my cousins). I was not feeling well, my ears were popped out and I was feeling almost like passing out. So, I went in the basement (which was now my and my cousin room) for having a nap. Next day morning, I woke up and was feeling lonesome. I called my mom and told her and wept in front of her and she comforted me. Several days passed but I was not able to accept the fact that I was in USA and now that I have to live my present life (I would not say rest of my life since I may not reside here very longer and I might go back to India) in USA which is far most different life from India. I was not talking with anyone from my family. After 7 days I and my cousin got admission in "North Brunswick Township High School." I was afraid to go to the school because I felt that people here will make fun of me because I came from India and will laugh at me when I will try to have conversation with them in English , though I knew English except, my English accents were so different than theirs. Next day I went to the school. My counselor Ms. Rao gave me my schedule and I was so lucky that I was not having any ESL classes. More of, I was unaware of the whole school process because in India students have to sit in one class and teacher has to come in class and teach students but, here everything was different. There were nine periods in a day and I attend each classes. As I attend each of my classes every teacher were asking my name and were asking me where did I come from? I gave all the answers to the entire question which were being asked from my teachers. They assigned a seat to me. I sat in all of my class very quietly, not even looking around the class and was brooding from inside of my heart and missing my friends of India.

I and my brother used to live with my aunt in North Brunswick, whereas my dad and mom were living here in Flemington. It's obvious that I did not like to stay at my aunts' home without my parents. Therefore, I used to come here in Flemington almost every weekend to live with my dad and mom. That way, 6 months passed and finally, I was able to make up my mind that I am really here in USA and I need to accept the culture, the beliefs of people and the way they act. I made friends but not a lot. Some were Indians who were very nice to me from the first day of my school. I started focusing in my studies and I started to bring good grades in class. That way I was able to build up my good impression on people and teachers. If someone in the class had some type of difficulty, they came to me for help, and I helped them. After then, there was a poster competition that was held in Middlesex County, on bullying, I participated in that competition and guess what? I came first in whole Middlesex County and my poster is right now posted in the Middlesex County court. At the end of the school year, I was able to make lot of friends which were nice though, towards me. But, the day arrived and it was the last day over there in that school. I did not wanted to change that school. But again, I was placed in the situation where I had to. That was the last time, I met all my friends and hugged them and said "Good Bye" to them.


Lastly, I came to live here in Flemington. It was a summer break, and so I used to work in Dunkin Donuts besides the school, Rt. 31, where my dad and mom work currently. But here, the good things happened were I made friends from school, I made friends from where I currently live. I am presently studying in Hunterdon Central Regional High School. I am not at all afraid now as I was afraid in previous school. I am a senior. I have good grades throughout my first quarter. I can now freely talk with people to whom I want to talk with, even if I do not have US accents. I like this school. The level of teaching is so high and so systematic. Now, I am looking forward for my graduation. In conclusion, do not walk away from your difficult time or do not hide from your reality, just go with the flow and as the time passes, you will be able to get out of your difficult time and you will be able to identify yourself as I did. While, facing the reality you have to go through many difficult situations, but you should not give up and just move on.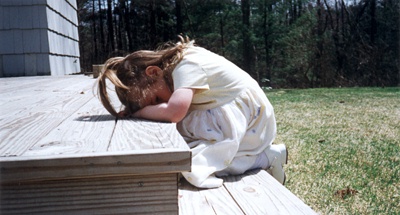 © Katherine B., Hingham, MA