Mama Pava
December 20, 2011
Most nine-year-olds in Round Lake, Illinois spend their summers outdoors jumping rope or swimming in the lake. I spent my fourth grade summer in my kitchen, teaching my then 68-year-old grandmother the alphabet.

My grandma, Mama Pava, grew up in a small Mexican village. She came from a very poor family. Her mother died when she was very young and her father remarried, so she spent her childhood cooking and cleaning for her stepmother. Shortly after turning 15, she married my grandfather, and she was soon pregnant with the first of her ten children. Her adult life was spent raising her children, tending goats, and cooking.

Mama Pava had no time for a formal education. Illiteracy in her town wasn't a big deal. Most of the townspeople couldn't read or write. Thumbprints satisfied the signature requirements on any formal documents, including visas to come to the United States. That's how my grandmother "signed" her visa in the early 1990s, when she first came to visit her sons and daughters who had immigrated to the US.

Sometime in the early 2000s the Department of Homeland Security stopped letting people use thumbprints as their signatures on visas and my grandmother was forced to learn how to write her name.

I remember the day my mother assigned me the task of teaching my grandmother how to write her name very clearly. I was resentful, of course. I was nine and I didn't understand how a grown woman couldn't write her own name. But I didn't want to make my mom angry, so I obeyed.

The first couple of days we went over the alphabet. The first thing she learned to write out was her first name, Paula. Her last name, Rivas, was trickier because she had trouble making the R's face the correct way. By the end of the summer, she could write out the entire alphabet, her full name, my grandfather's name, and the numbers from 1 to 10.

I learned a lot about patience that summer. I experienced the feeling of having your hard work pay off for the first time. I also discovered how rewarding helping others communicate can be.
My grandmother is not the only person I've met who has been silenced by lack of communication skills. I've discovered that while Round Lake is a largely Spanish-speaking community, few teachers in area schools are fluent in Spanish. For the past four years, I've volunteered at parent-teacher conferences at my high school and my old middle school, translating for parents who don't speak English. I find it unfair that these parents miss out on the chance to help their children succeed in school simply because they don't speak English. I want to give them a voice.

It's been seven summers. Mama Pava has Alzheimer's now. She still visits every summer and we always spend a lot of time together. Every year I re-teach her the alphabet and experience the same feelings of happiness and accomplishment that come from helping others.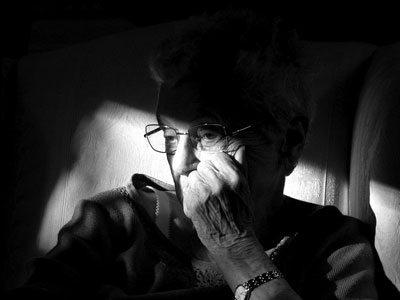 © Kate S., Hopkinton, MA