Alzheimers College Essay
December 16, 2011
It is around that time of year again. I can feel the crisp wind coiling around each lock of my hair. The lifeless leaves that lie along the cobble stone road crunch beneath the weight of my heavy heart. It is the anniversary of my Grandfather's passing and I am reminded of a moment that will haunt me forever. I replay a memory that clarified what I had already known about his fate, but was reluctant to accept. I slowly approached the edge of the pond to lay my hand on my grandfather's shoulder when, turning to gaze into my eyes, he said, "I know you belong to me but I don't remember who you are."
I grew up sheltered from despair. As a little four-year old girl, losing a Barbie to my brother's evil wrath was a traumatic experience. Being the little seven year old girl excluded from the boy's baseball games always brought me to tears. At the age of thirteen, my greatest misfortune was facial acne I tried to conceal underneath pounds of makeup. These silly situations had me searching for console. Grandpa's arms were always open. As he brought me to kidnap my brother's action figures, taught me how to slide into home plate and washed the makeup off my face, he told conciliatory anecdotes that always seemed to ease my pain. Recounting one life story after another, his pep talks grasped my attention for hours. From family scandals to fighting in Vietnam, there was never a dull moment. But as time elapsed and I grew older, our bond diminished. Regretfully, my grandfather began to fall down my list of priorities. Sharing everyday together turned into twice a week, then twice a month and eventually just holidays.
Tragedy struck unexpectedly. Grandpa had fallen prey to Alzheimers. Accepting that my only grandfather would slowly forget my existence was a tragedy in itself; however, the real burden came when I realized he would eventually forget the events in his life that defined him. Every frivolous argument, warm embrace and tear that has ever streamed down his cheek would be erased from his memory. Gone forever. He had reached a time meant for self reflection by immersing himself in memories and reliving life-altering moments; however, my grandfather would never feel the gratification of a flashback. His memories forcibly distorted. Alzheimer's was no longer an abstract concept. The disease was real, and there was no cure.

The years directly preceding his passing were dark times. I witnessed a man I loved unconsciously lose everything he ever cherished. I was forced to battle feelings of regret that stemmed from our dwindling relationship. As I was saying what turned out to be my final goodbye, I can't say I experienced an epiphany, but it definitely was a transformative moment. It occurred to me that maybe this disease was not a hindrance, but a sanction to truly live. Our journey on earth was not about finding ourselves, but about pushing ourselves to be the person we want to become. Maybe Grandpa was blessed. His ability to rediscover the world around him and everyday recreate himself inadvertently demonstrated that I can create my own future regardless of my past. The reality of human morality rendered all of my dissatisfactions with daily life trivial. Instead of rushing around dwelling on past inadequacies or future problems, Alzheimers taught me to step away from the pressures of society and appreciate the splendor of the moment. Through intense self-reflection and contemplation, I've realized how fragile life really is. Alzheimers enabled Grandpa Rosati and me to recognize the beauty of life. What was once just another disease has transformed the way I perceive my surroundings and has endowed me with a new appreciation for life. Through this paradoxically blissful event, I have realized that only in the darkness can one see the stars.
Today, I sit here adjacent to the pond a different woman than I was three years ago. I have finally found the silver lining in this dark cloud.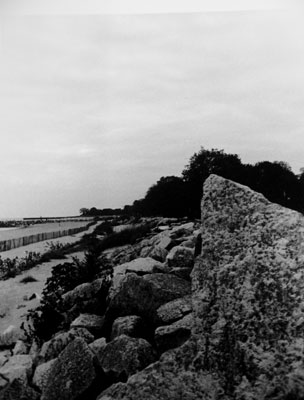 © Sean M., Apple Valley, MN