The Witch and I
December 27, 2011
They were storming the castle - the enemy were dressed in a disguise and armed with little colorful rocks, that if they made their way into your mouth, they would rot you from the inside-out. While they slowly crept towards me in a swaying motion, I knew I had only one option. I ripped through their arms, for this was my Kingdom to protect! The fight was brutal - I was thrown in every direction yet I bounced back up, before the enemy had a chance to lay their hands on me. I lunged at my last foe, knowing that this was a fight to the death. I lowered my body to a ninety-degree angle, and sprinted head-first; BOOM! They went flying into the netting with shrieks of pain.

"Alix, if you can't play nicely, I will take you out of there!"

I was clothed in a Pooh Bear body costume with a little black dot painted on my nose (because, of course, all bears have little black dots for noses). I made my way out of the Jumping Castle and whizzed around to what smelled like a concoction of pizza, M & M's, and cotton candy. My costume birthday party had proceeded as planned. Until the entertainer arrived, my friends and I had to sit in a circle on the deck of my house, waiting. Then, my mother uttered to our group, the three most terrifying words I would ever hear: "Witchypoo is here!" She, or rather "it", made its way into my backyard; it was the life-size version of a child's worst nightmare...and I had to take a picture with it.

I will admit though, I am still a scaredy-cat. Looking back, I think that I would be just as scared now of Witchypoo, as I was back then, but c'mon, she was a giant-headed, full scale witch, and as a kid, you are not prepared to meet fairytale villains! After I grew up, I came to learn that fictional characters cannot hurt me, but real world characters still could. It was time to step out of my imaginary world, where I pictured my life to be a "cartoon". I could no longer shield myself by pretending that the world is a happy place where no one could hurt me. I had begun to understand that some situations are scary, but if I let them conquer me, I could never become the person that I wanted to be.

If given the chance, I would go back in time to speak with my seven year-old self, and tell her that I'm proud of her because she didn't let "fear" get the best of her that day - she sat on the giant witch's lap and took the picture. My "younger" self taught my "present" self not to allow fear to control your life, and whether it's a fairy-tale nightmare come true or fear of the real-world, you have to keep fighting, even after they tell you to play nicely.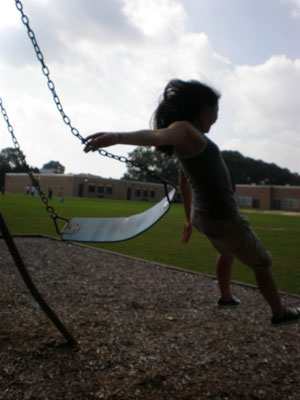 © Michelle L., Syosset, NY