What mexican music means to me
November 21, 2011
When I was younger there weren't many Hispanic radio stations and absolutely no Mexican only radio stations, but on Saturday morning from 6am to 11am there was a radio station dedicated specifically to Mexican songs. We would wake up to a mariachi band and the radio host would say the same thing rain or shine " Wake up it's a beautiful morning, whether you're going to work or still in bed we're here to bring you back some of those oldies and some new songs straight from that beautiful country that you miss" these oldies would have my mother closing her eyes and reminiscing of her youth, she would later go out and buy the cd and that would be our soundtrack for the week until she would suddenly remember another artist on the following Saturday morning.

These songs were my introduction to my Mexican culture, hearing mariachi songs that were sometimes upbeat and other times sad with lyrics of heartbreak but nonetheless their soulful deep voices that did not yet know auto tune made my heart swell with pride. I quickly memorized the songs due to my mother playing them non stop on long car rides, while cooking or cleaning and pretty soon people began joking about the fact that I still could not identify red from yellow but knew the lyrics to all the songs. As I grew up these songs made me feel nostalgic as if it had been a lifetime since I first heard them and they also became an outlet for my feelings. Whenever I would feel as if I had hit rock bottom my mother would play this song for me, the lyrics would translate to " with money or without money I do what I want and my words are the law, I don't have a throne or a queen or anyone that understands me but I am still the king" and as conceited as the lyrics seemed I would feel motivated to do better and rise up from whatever setback I had encountered and be the king again.

When I was heartbroken I would remember being with my older cousins after one their relationships would fail and how they would blast songs written by the most spiteful man-hating Mexican woman who referred to men as rats on two legs that compared to a random roadside beetle was still smaller in character. I would play back those songs and feel revitalized and foolish for letting someone hurt my heart and be determined to forget them.

These songs not only provided a soundtrack for my many moods but also connected me with my country, they would bring back memories of my summers in Mexico and the times that my cousin and I would annoy our older cousin by singing in his ear who at the time only liked pop music and would be annoyed very easily, or on car rides in my fathers town when my uncle would let my cousins and I sit in the flatbed of the truck and we would belt out the songs that were playing on the radio while the sun grazed our skin and the wind whipped through our hair. Going to soccer games whether they were in Mexico or here In the united states there was always a cheer/song that was a must have at the stadium called "cielito lindo" or " Darling Heavens" it was surreal to hear the chorus of thousands of other spectators, the effect that it had on the ambience in the stadium and how it could unify a whole country.

Although I have many years before me until I've reached the same status as my mother and aunt, Mexican music inspires so much nostalgia and gratefulness that I was able to grow up with these songs and thanks to my mother our culture was not lost and these songs will still be heard in another ten years because I also want my children to grow up with them. They not only provided a cultural soundtrack but also helped make my childhood unforgettable and without a doubt shaped who I am today.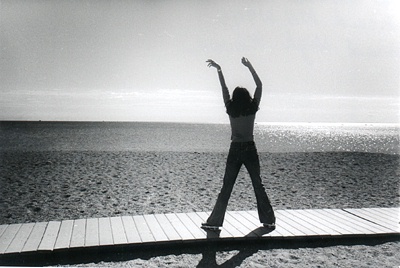 © Colleen F., Marblehead, MA