My View From the Mountain
October 15, 2011
I sit alone on the top of one of the steepest trails at Mount Mansfield, my periwinkle skis intertwined in the mounds of fluffy snow. Crisp wind whispers in my ears and plays with my long pale locks. The fresh, familiar sent of pine soothes my senses; coaxing me to venture further into the depths of the forest. Without a soul nearby to interrupt, my mind spills outside of its confinement; my vivid imagination comes into play.
I allow my eyes to rest and let my surroundings envelope me. Nothing else matters in this moment; life's meager trials and tribulations seem as small as the little specks of color, representing the hoard of skiers thousands of feet below me. My mind drifts as I gaze upon the slowly moving ants far beneath. The people I may one day meet; others I may never encounter. I come to a realization- I am one of them- another small speck on this vast planet. A being with potential to make a difference and leave a significant impact. I have a dream to fulfill and plan set out. Ambition flows throughout me.

Above me, a fist of clouds chokes the incandescent winter sun, leaving the sky a canvass of intermingling shades of violet. Indisputably, I am witnessing a live representation of a Turner masterpiece. The beauty that surrounds me is ineffable; scenery that even a Nikon camera could not capture. The writer inside me fails in search of an adjective to describe my view from the mountain. I feel greedy. I sit here enjoying nature's beauty all to myself, not a soul to share with. I want to share nature's gift with others; help them appreciate the natural brilliance our Earth has to offer.

As I stand up, I brush off the thin layer of snowflakes that have neatly decorated the surface of my nylon jacket. Aligning my skis with the tip of the mountain, I muster the strength I have gained from 12 years of competitive swimming and head down the lengthy trail. I take notice of the fine white which has not yet been braved by another pair of skis. I am the first down this winding path- a trail not many choose to conquer. This extensive, yet scenic route surely takes more time to complete than the main trail, but in the end I know it will be worth the effort.
At last, I reach the mass of eager skiers waiting to board the lift. I add to the hoard of what was previously a sea of small colorful specks. Nonetheless, I acknowledge that I am not just another being on this slowly rotating planet. I know who I am. I know what I am capable of and what I will set out to be.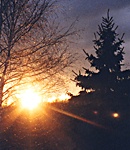 © Christy S., Germantown, NY