Ivory Smile
October 11, 2011
Invisible beads of sweat collect at my temples and slowly draw moist lines along my cheek, down into the abyss of my button up shirt. My knees buckle under the beige khakis that have somehow, over the years, become my (albeit bland) uniform of choice. Dozens target me with laser-like eyes waiting, expecting perfection. Only one thing comforts me at this moment of tension, an ivory smile.
No, unfortunately the comfort does not radiate from the reassurance of my beaming mother (quite the opposite actually). Nor does comfort stem from the façade of the grin I attempt to force out during this truly uncomfortable situation. It emanates from the smile right in front of me and soon from right under me. Slowly, a breath escapes the dry orifice of my mouth, I attempt to relax, and my fingertips finally touch that ivory smile.
My melody began with the simple songs of Bach; the foundation of my elementary years was filled with minuets, preludes, and fugues. Steadily I developed and my recital soon filled with the repertoire of Beethoven, Tchaikovsky, and Chopin. Night after night, month after month, and soon even years of practicing only led me to believe that my talent was just that, a talent. Sure, the music that I could make with just my fingers was nice, (it was definitely nicer than anything that could come out of my own mouth!) but it was just some hobby that my parents convinced me I would love. True love, I learned, can't always be instantaneous.
With more proficient skills, it seemed a new door of opportunity opened itself to me every time I improved. I have a gift that I not only can share, but can use in order to develop my own being beyond the monotony of school and the "Circle of Life". Music had cultivated my own view of how life can be whatever you want it to be as long as you take the time to develop it. My melody may have begun with simple lines and motifs, but only through continuing the song can the complex and extravagant harmonies be truly appreciated. This is the melody of opportunity and hope, and it comforts me.
My love for that wonderful key, that perfect chord, was a love that needed time to grow and mature into something special; something beyond just a hobby or a talent. I find peace as I knock out the "teeth" in that glimmering ivory smile. Happiness fills my heart as I strike the numerous notes and the stress of life is lost within the cryptic black lines before me. Every night when I have the opportunity to see that ivory smile, I can't help but smile back and realize, sure, a perfect performance would be ideal but life isn't always perfect and it's because of those little, inevitable mistakes that you continue growing.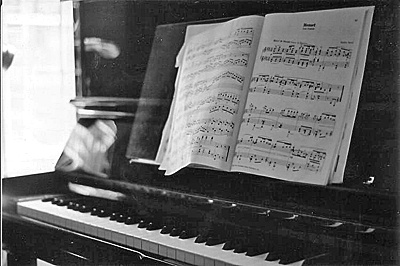 © Amy C., Portland , ME