Dairy Queen
October 7, 2011
I was a twig, pole-thin, with angel hair pasta tangled all over my head. It was snack time, the summer vacation of every kindergartener's day. Two dozen five-year-olds with light-up sneakers dropped pencils from hands cramped with the brand new movement of writing A to Z. Lunch boxes sprang from their cubbyhole cages. The privileged milk monitor left for the cafeteria, and I sizzled with joy, hands popping, feet jiggling, eyes jetting, mind bursting, as I awaited the arrival of the milk. Children chewed their crackers with mouths open, and the tired teacher, fixing her hair and planning her outfit for a date that night, caved into her desk chair.

The door opened. The smiles arrived along with the milk monitor as thirsty fingers selected their milk of choice – white, chocolate, or, in the more exotic cases, strawberry. My favorite cartoon characters grinned from the sides of each carton. I selected my crown from the wide selection of dairy drinks nestled in the milk monitor's green basket. It was my favorite flavor – white.

It's not always easy to understand why a queen chooses to accept a crown. Some queens lust for power. Some feel as if they owe something to the people they rule. Others just think that wearing a crown is something they were born to do. In the case of this particular queen, however, it was not a large decision. It's difficult to say what spurred my decision. It may have been nothing more than the joy of snack time, or the surprise of seeing a Saturday morning superhero in the middle of the week. There was no way of knowing whether the women on kitchen duty added something to the milk, or whether the expiration date had come and gone. Whatever the case may be, I made my choice. I stood, while others sat, and proclaimed to the entire world – at least, it seemed like the entire world to me – "I am the Queen of Milk!"

The teacher stood, too. She was taller than I was. "Shut up!" she screamed. "There's no yelling across the classroom, remember? Shut up! Sit down! Drink your milk!"

I did just what she said, and stayed shut up and sitting down for more than a decade. Silence became a welcome friend that squeezed my hand during conversations and kept me company when the rest of the world was loud. My brief experience as a dairy queen taught me two paradoxical lessons at once: 1) Spoken words mold minds more than the speaker often intends, and 2) The unspoken word resonates just as loudly as the spoken word. I now weigh, measure, stretch, crumple, and tessellate every sentence before crowning it and giving it to the world. It is my hope that the kings and queens to whom I give wings rule contented countries.

And every night, I pour myself a glass of milk and place my crown atop my head. The Dairy Queen, although much more humble and reserved, lives on.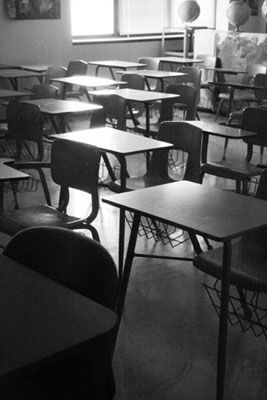 © Sean C., Princeton, IL