The Will to Win
October 2, 2011
The rhythm of my footsteps treading fast upon the ground and the echoes of my own gasping breaths as I managed to take in the dense, humid air, killed the silence of the once serene forest and enlivened it in a sudden rush of adrenaline. The whistles and claps of spectators had gradually faded. I felt nothing, thought nothing, as numbness seemed to dull the aching of my body and push away the cries of my mind to just let it go and give it up. I was in the lead, yet had no idea by how far.

The trees seemed to close in on me and a heavy gust dared me to surrender. "No, not now, not yet," I mumbled under my breath. I couldn't let my team down; I gripped the bronze baton tightly in my hand as I pictured the twinkling golden trophy awaiting at the finish line. My suffering did not weaken me, rather, fueled my drive to work harder. I picked up the pace, but was startled by the impending sound of crunching leaves from behind.

I knew who was behind me: a girl from our rival school, East. A flush of adrenaline heightened my heart rate while my strides lengthened, helping me gain speed as I edged closer to the finish. My coach stood in the light, where the shaded trail opened up into a wide field of shimmering damp grass. " Come on, Amanda. This is where your heart does the work! Give it your heart!" he shouted, red-faced with excitement.

Herds of spectators cheered and clapped while a jolt of passion struck me like lightening. This is it. My cheeks now burned as my legs, now two heavy cement blocks, pushed forward to their maximum speed. I took one huge gulp of the dense air before —rip! I looked back with a feeling of feat to see my opponent now a fair twenty seconds behind.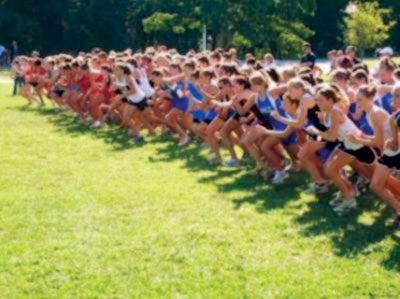 © Ashley R., Charlotte, NC