My Life Struggle
August 30, 2011
My life story summed up is a story of; survival, culture, love, hate, compassion, family values, triumphs, and failures. Growing up in the south side of Chicago was harsh. I became used to hearing police sirens and ambulances rushing to the hospital on a daily basis. Gun shots would wake me up in the middle of the night instead of nightmares of the boogey man. With only the basic necessities a family could attain, the idea to pursue an education wasn't always a definite subject because we couldn't financially afford it. I've had a lot of experiences that have set me back from believing in my dreams but I have always had people in my life that have supported me. During my life there has been a significant person that has greatly changed me into becoming more altruistic. This person is my mother.
My mother has been a great influence in my life. A couple months ago, I competed in the Mexican Civic Society beauty pageant because I was informed there was going to be scholarships awarded to the winners. I saw this as an opportunity to help me with college. Halfway through the competition, I started to feel uncertainty in myself because I felt I couldn't manage the stress. I was studying for the ACT at school and still trying to cope with the pageant's responsibilities. When it seemed I was down on the rocks, about to drop out of the competition, my mother insisted for me to continue but to also study in order to do well on my ACT. On the final day of the competition, as I was standing on stage to hear the winners, my heart was pounding with anxiety. When I heard my name as First Princess, I immediately looked for my mother in the audience. When I finally seen her face, I felt a surge of accomplishment. The look in my mother's eyes will be a visual I will never forget. Her eyes
filled with tears of joy. My mother was proud of me. She deserves more than recognition because she has always supported me. She is the reason why I continue making positive choices every day. She has also taught me to always help others in need not only myself.
A way in which I learned more about myself was through The National Hispanic Institute, a leadership program for high school students. After some time of being part of the Institute, I realized I had finally become a great speaker. I still remember giving a speech in front of two hundred people. The "knot" in my stomach would only get worse after anticipating the fact of going up there. When I finally got up there in front of the microphone, I let go of all my fears and instead I smiled. My confidence strived and I did a great job because I believed in myself. I gained more confidence every time I debated against other students. I overcame my fear of public speaking.
My most important goal in life has been to exceed beyond others' expectations. I have always tried hard in school to get good grades because my family always instilled the belief of education being a key factor. My dedication to my family and education has differentiated me from others. Ultimately, if it wasn't for mother and the National Hispanic Institute, the direction of my life because of the decisions I would have made would have gone down "the road less traveled by", in other words the easy way out. I'm one of the very few who continues to persevere through the obstacles because the ambition to be successful keeps me trying.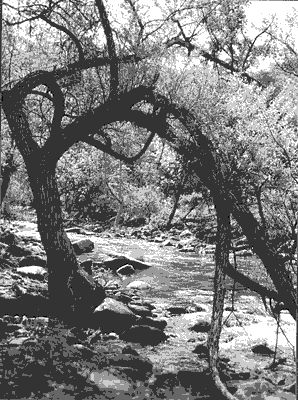 © Maya K., Madera, CA