The Opportunistic Scavenger
May 10, 2011
"Well Katherine, I find that the more you do, the more you can do."
He then looked back at me and smiled with a toothy grin. I smiled back. I was confused. What on earth is he saying? The statement was spontaneous. It was simple, and so benign I could have easily ignored it had I not found the sheer essence of the thing a matter of sardonic perplexity. What is more, it was directed to me, as if it were now a personal mission of mine to explore the phrase in close detail. The battle was on; there could be only one victor.

To be fair, I frequently find myself in heated debate with the English language. These grandiose examples of personal confliction are often made all the more absurd by my strong conviction that language is the highest form of communicative reverence. I tend to place words upon a pedestal, like they belong in a shrine for all to see. I am rarely bewildered by a phrase, as I get older this becomes more and more true. So when Nils so casually and so completely baffled me with the use of words that any first grader has mastered, it was no longer a phrase, it was a matter of dignity – my logophilic pride was on the line.

Days went by and I contemplated long and hard on the meaning of that phrase. I took everything into account: I analyzed Nils' personality, I examined the situation in which the phrase was uttered, and I even entertained, for a moment, the possibility that the phrase could mean nothing (an action anyone who knows me very well could tell is a sure sign of desperation). In the end a revelation came when I was about to give up entirely and leave the battle for lost. Nils is someone who has somehow managed to make himself an important person with what appears to be very little in the way of traditional success. There is nothing that I can cite as the one event that got him to where he is now. Nonetheless, Nils picks up new opportunities like they are on the brink of extinction. He is perhaps the busiest person I have ever met, but he seems to handle it effortlessly.

Then I realized, what Nils was saying was not about being busy or doing more, it was about opportunity. Perhaps a more concise interpretation is as follows: "I find that the more opportunities you take advantage of, the more open your possibilities will be." Besides, when you think about it, isn't that what life is? Life is a large trail of opportunities that you pick up and carry with you. I imagine a board game, The Opportunistic Scavenger where you pick up your opportunities and each one leads to another. That one simple phrase, so irksome in nature, has become my mantra, and though I hate to admit it, it is much more meaningful now for having caused me so much trouble.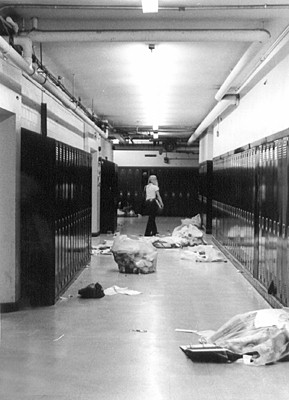 © Halsey S., Marblehead, MA