Graduation Speech
March 1, 2011
I'll tell you a few things about myself. I'm an avid wrestling fan, with John Cena being my favorite. So when I came to this school as a seventh grader, it was great when I met people who also loved wrestling, even if John Cena wasn't their favorite. I'm a huge Backstreet Boys fan, with the lyrics to "I Want It That Way" ingrained into my brain since kindergarten. So when I came to this school and not only were there Backstreet Boys fans but they were also willing to belt out "I Want It That Way" with me at a moments notice, it was like I'd found my second home.

These past six years at here have kind of been like the movie Zombieland. Like Columbus, Tallahassee, Wichita, and Little Rock, we, the Class of 2012, have banded together to fight against tough foes. Though we didn't deal with zombies, we did battle homework, tests, projects, anxiety, sleepless nights, and so much more. But we made it through thanks to Columbus' rule #32 in surviving Zombieland, "Enjoy the little things".

It's all about the little things. It's the little moments that make up the extraordinary, meaningful events. It's the individuals that make up the diverse community. It's the common factors among us that build long lasting friendships.

As we get ready to finish this chapter in our lives and move on to the next, it's important that we look to the future, reflect on the past, but most importantly, take in the present. As we get ready to venture out into the world and go our separate ways, we mustn't forget what we've learned here. Not just how to use MLA citation and how to decline the word 'puella', but also that we can depend on each other to borrow flash cards or give pieces of paper (with the edges ripped off, of course). The Class of 2012 has become a family over the past years. We've gone through ups and downs and we've dealt with every obstacle that's been thrown at us. Though some of our classmates have left before this journey ended, today, we can proudly say that we are the graduates of the class of 2012.

Before we go off on our separate journeys and say goodbye to the people and sights that have been so familiar for the past six years, I want to leave you with a quote by someone whose words are ingrained in many of our brains. In Eminem's Lose Yourself, he says "You better lose yourself in the music, the moment. You own it, you better never let it go. You only get one shot, do not miss your chance to blow. This opportunity comes once in a lifetime." Listen to Eminem. Cherish every moment. Make your one shot count. Don't let opportunities pass you by.

Now, as we first heard when we stepped into these halls, "look to your left, look to your right" and though both of them will soon be on journeys of own, they will never be gone. This class will never be gone. This experience will last forever.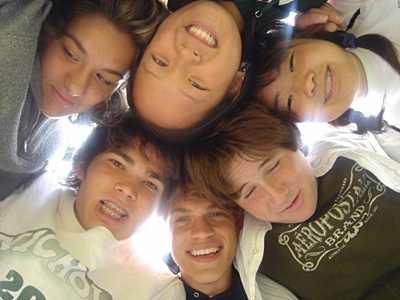 © Zhihan C., Hudson, OH