Wordless Stories
February 6, 2011
I peer through the viewfinder. The camera focuses, and my eye takes in the promising image in front of me. Through the crystal clear glass I see an adolescent girl. She is dressed in a coral pink tank top and a gray hoodie, and although I know her long hair is a beautiful cherry-lemon color in reality, the soft light of the spring afternoon tints it a darker cinnamon. She has an unusual hand-drawn design on her upper chest, just below the neck, and several more on her cheeks—orange and yellow spirals that together with her warm, rosy skin complete her bright ensemble. Her dark eyes stare at me serenely, and her expression is marked by the relaxed smile on her face.

As I am about to snap the picture, a blurred figure darts into the background, suddenly and with hardly any warning, on the left-hand side. It is a girl with dark brown hair and a lavender-colored shirt on, running across the lawn behind the girl in the foreground, basking in the warm late-May air with her arms stretched out to either side like an airplane. My finger hits the button at exactly the right time, and I manage to capture the motion of her childlike flight in a perfect position: the girl in the front smiling her content smile, her unique spirals standing out, while the one in the background seems to express the simple bliss of childhood. With the simple click of a button, I have seized an instant from the past and made it tangible. I have captured a moment in time.

This is my stomping ground, my passion—photography. It's the feeling of being able to take that instant, that memory from the past, and preserve it forever; it's exposing the quirky little thing in the corner no one would have seen and telling the world, Look. Look what was here that you never noticed. It's the idea of being able to compose a shot as a work of art, by zooming in or zooming out, changing the color, the angle, the lighting, the shutter speed—anything that will cause both the viewer and me to gain a different point of view; it's capturing the essence of someone or something in a single harmonious frame; it's telling a story without words.
What first intrigued me about photography—and still does—are all the possibilities it holds. Photography, at least for me, is all about the experimentation. There isn't one specifically correct way to do it—you just need to have a good eye. This experimental approach is something I want to carry with me and apply to life. I have always been a pretty observant person and have had a keen eye for my surroundings. Whether it is in college, in my job, or in my general personal life, I want to apply this characteristic so that I am able to try new things and see the world through different perspectives, while at the same time expressing my own. I want to travel, snap pictures of countless different people, places, and things, examine them, learn from them, and then tuck these experiences inside of me. I want to look life through more than one viewfinder.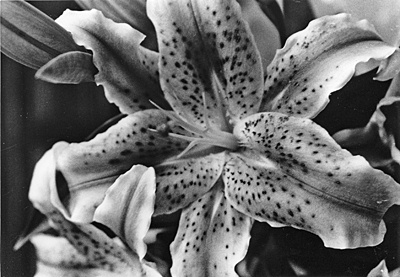 © Jenni W., Jackson, MI